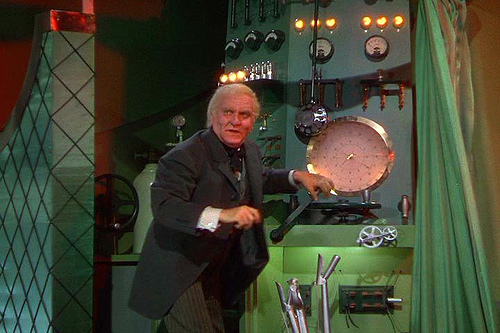 [Frank Morgan as Oscar Diggs (aka The Wizard). All rights, MGM 1939.]
Sexual health in women. It's truly a double-edged, damn if you do, damn if you don't topic, wrought with landmines and a path paved with…profit. Especially female sexual dysfunction.
Female sexual dysfunction describes an amalgam of symptoms and issues around women and their sexual desire or lack thereof that include: a chronic lack of interest in sexual activity, avoidance of sexual contact, the inability to maintain excitement, difficulty in reaching orgasm after arousal, pain during intercourse, involuntary spasms that may prevent sexual penetration and genital pain following foreplay. A woman doesn't have to experience all of them to be labeled as having female sexual dysfunction, but she must have at least one and it must cause distress.
Sounds fairly complicated, doesn't it?
The literature and reams of data have shown that sexual function and desire in women rely on multitude of factors such as context, experience, personal attitudes, emotional closeness, wellbeing, social support and even a sense of purpose.  And with the intersection and interaction of these factors, one would imagine it would take a miracle drug to combat more than one of these issues effectively and efficiently. That may be one reason why the FDA turned down the application for flibanserin a few years ago.
The back story on this 'Female Viagra' is that it is a  antidepressant compound that is is believed to affect brain receptors and neurotransmittors that play a role in sexual response. Data presented a few years back at the European Society for Sexual Medicine conference demonstrated that in clinical studies,  flibanserin significantly improved desire, sexual experience and sexual functioning in women when taken for at least six months. The majority of the women participating  in these studies were pre-menopausal and had been diagnosed with hypoactive sexual desire disorder (HSDD), a condition that is characterized by a decline in sexual desire, a loss of intimacy, and distress. Yet, the FDA eventually turned down the application because they determined that despite these initial studies, the data, in concert, did not ultimately did not show that Flibanserin improved sexual desire any better than placebo. It was also associated with a number of different side effects.
Fast forward to a few weeks ago, when in response to a concerted lobbying effort by pharma, women's organizations and even medical organizations  the FDA held a two day hearing on female sexual dysfunction. And, while I did agree with that we need to 'even the score' to gain women's health equity (and in so far as female sexual dysfunction goes, provide timely and effective treatments), at least four of the major sponsors of the so-called 'Even the Score' movement  were major pharmaceutical companies with vested interests. Not surprisingly, one of these companies was Sprout Pharmaceuticals, manufacturer of Flibanerin. And, the plot thickens further…earlier this week, MedPage Today reported that the FDA hearing had an overrepresentation of individuals who had been recruited by drug companies to speak ; many had their way paid indirectly by Sprout.
Why am I sharing this and why are the stakes so great in women's health? We are living in a time when the culture of trust is being called into question and as I wrote in a related piece on Medium a few weeks back, the culture of trust "is an integral part of women's health and in no area has the delivery of healthcare been as exclusionary and disjointed." Despite this gap, women are still the most frequent health information seekers, a behavior which I believe, relies on trust.
A report from the Lancet Commissions group recently stated that,"where profits take priority, the fact that health care functions in the public interest is as contestable as its business prospects are undeniable. Healthcare has, in many countries, become big business, especially when this business sees bodies as commodities to be exchanged and bartered in all of their parts."
Here's my point: if the information that is being delivered to women seeking care and knowledge places profit over health, then the culture of trust comes into question. If companies like Sprout Pharmaceuticals or even Novo-Nordisk hide behind the curtains of bloggers, women's organizations and even some healthcare practitioners to highlight certain 'diseases du jour' if not 'du semaine,'  then the culture of trust, like the system within which it is operating, is broken.
Professionally, I've worked with pharmaceutical companies and I understand when the efforts are pure and when they are not. However, be assured that I have never delivered information on this blog that would be considered lined with a conflict of interest. I have kept my promise to you to deliver information without motive. Unfortunately, I cannot say the same of many of my colleagues in the midlife women's health space. That's why, dear readers, I'll be leaving it at the year's end but more on that later. For now? I cannot encourage you enough: please look behind the curtain. After all, the All Mighty Wizard turned out to be a simple man from Kansas, didn't he?