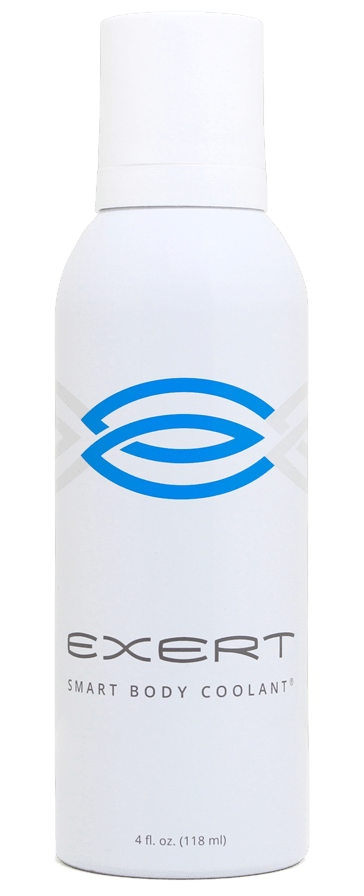 Keeps the flashes at bay???
When the folks at Exert contacted me on Twitter about their Smart Body Coolant, I wanted to believe, I truly did. However, what I've found after a week's use is that the product simply does not live up to its claims, at least, not for me.
Exert's Smart Body Coolant is a once-daily body spray composed of phase change and high thermal conductivity materials. Theoretically, it promises to draw heat away from the body much like a wicking fabric, reducing temperature by as much as 2 to 6 degrees. And there's no need for additional application after a flash; it supposedly 'recharges' once the skin drops to optimal temperature.
Admittedly, I have been experiencing lots of undesired heat of late, both during the night and while at the gym and so, another alternative to HRT certainly appeals. But,  Exert did nothing for me. Further intrigued by its lack of effectiveness, I delved deeper into its ingredients.  Here's what I learned:
A phase-change material (PCM) is a substance with a high heat fusion that absorbs or releases energy or heat, when the material changes from solid to liquid. So, when you start sweating, it should be working to release the heat.
Thermal conductivity refers to how well certain materials transfer heat
Together, these should equate to cooling.
Except, they don't.
Look, Exert is well priced and should last up to six weeks with daily application. The application part of this equation lives up to its promises: nongreasy, unscented and non-staining. And, while I remain skeptical about its effectiveness, others' testimonials are not quite so negative so clearly, there is either a placebo effect at play or it's working for some. My advice? I don't believe the hype but at the same time, it's always worth trying, right? Kudos to the company for a unique idea but spraying flashes away is not in my future. Is it in yours'?
[Disclosure – I was not paid for this review but I did receive a can of Exert care of the company's representatives.]