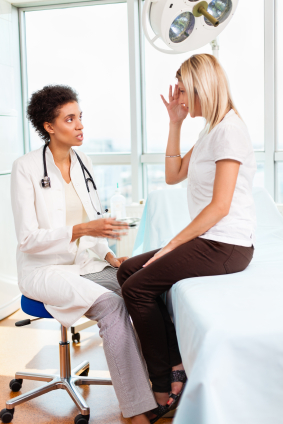 Women rank among the highest consumers of complementary and alternative medicine for their healthcare, and according to the National Center for Complementary and Alternative Medicine, age matters. In fact, the largest percentage of adults reporting that they use alternative medicine strategies are 50 to 59 years old, and as many as 42% discuss their use with their doctors. However, what does your gynecologist think about complementary and alternative medicine use? Is she or he supportive and what modalities tend to rank highest in terms of recommendations or endorsements? Moreover, how do gynecologists differ in their opinions?
In the U.S., most ob/gyns appear to believe that convention medicine practices for reproductive issues might benefit by the integration of complementary strategies. However, most of the positive beliefs focus on biofeedback, chiropractic, acupuncture or meditation. Conversely, the doctors report that they would not recommend dietary changes or Traditional Chinese Medicine and a majority were not strong supporters of herbal medicine. This is in direct conflict with German gynecologists. But why should we care about the Germans and what they think!!!?
To digress, I don't know how many of you are familiar with the Commission E Monographs but, they comprise the world's leading scientific summaries on the use of medicinal herbs in health and disease. In the late 1970s, the German Ministry of Health established Commission E, a panel of experts charged with evaluating the safety and efficacy of the herbs available in pharmacies for general use. In all, the group published 380 herbal monographs that are considered  "the most accurate information available in the entire world on the safety and efficacy of herbs and phytomedicines."  Hence, the Germans definitely have a leg up when it comes to alternative medicine, at least when it comes to the use of herbal alternatives.
So, let's take a look at a similar survey experience newly published in Complementary Therapies in Medicine,  in which over 2,500 respondents indicated a familiarity with the use of alternative medicine specifically for menopausal symptoms. Almost all of the gynecologists had some experience with black cohosh, chaste tree berry and St. John's Wort and believed them to be effective. And the modality that they felt was most effective? Lifestyle changes and alteration (think: change in dietary habits, physical activity, reduction of stress, etc). The least effective strategies, at least in the eyes of German doctors, were  yoga, acupuncture and homeopathy.
The researchers point out that the viewpoint of German doctors is important because these practitioners play an important and consistent role counseling women who complain of menopausal symptoms. The same is true for their U.S. counterparts.  And yet, despite the wealth of data in the Commission E monographs, many doctors still continue to question effectiveness and scientific evidence supporting the use of alternatives.
Will this make a difference with regard to the choices that women are making? Probably not, because as I've been writing for years, one size does not fit all, especially when it comes to weighing the benefits versus the risks of hormone replacement.
The next time you have your annual with your gynecologist, find out what she or he thinks of complementary and alternative and strategies and most of all, ask why. What she or he is thinking might not be aligned with what you find works best for you.