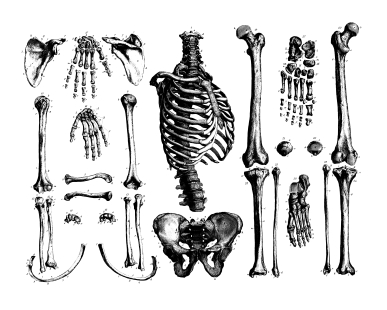 Sounds like a new reality show for the over 50 set right? But it's pretty serious.
A new report from the International Osteoporosis Foundation (IOF) demonstrates that one in two women over the age of 50 are at risk for fragility fractures that may be related to bone loss and not only trauma. In other words, broken hip bones, or bones in the wrist, arm or their vertebrae — usually resulting from a fall — may be a signal that something else is also at play. Moreover, the IOF reports that approximately 80% of both men and women who are treated at clinics or hospitals falling a fracture are not receiving screening for osteoporosis, osteopenia (low bone mineral density) and associated risk for future fractures.
So, why does this matter?
Well, according to IOF statistics, half of people who ultimately end up with a fractured hip in old age had a fragility fracture when they were younger. Moreover, 1/6th of menopausal women have had some sort of fragility fracture in their lives. Considering that women in particular lose up to 50% of their spongy, or trabecular bone (the network that makes up most of bone structure) and up to 30% of their cortical bone (the outer shell) within the first 10 years of the onset of menopause, and the body is creating a perfect storm. According to the IOF, up to a quarter of hip fractures can be prevented by early diagnosis and appropriate osteoporosis testing and follow up treatment.
Mind you, the treatments for osteoporosis are controversial. As I've written previously, the most popular drugs for osteoporosis — bisphosphonates — may be risky after about 5 years of use and even increase fracture risk in some women. However, there are important non-pharmacologic steps that can be taken to counterbalance risk, such as:
Weight bearing exercise
Insuring that you don't sit too long at any given time while at work (women who sit for more than 9 hours a day have a 50% increased risk of hip fracture)
Strengthening back muscles, which can help prevent vertebral fractures
Insuring that adequate amounts of low-fat dairy, tofu and certain green vegetables are included in your daily diet. Note that some plant foods contain substances that can lower amounts of available calcium to the body, e.g. oxylates in spinach and rhubarb or phytates in dried beans, so you want to be sure to counter that with vegetables like broccoli, kale and bok choy, which are low in these substances.
Even if you eat a proper diet and exercise daily, you are still at risk of bone loss and fracture – it's a natural result of aging and waning estrogen. However, if you are fifty or older and suffer a fracture, heck even if you are slightly younger, request a screening for bone loss and osteoporosis. The IOF says that most clinicians don't follow this path — possibly due to cost concerns, time or even where the responsibility for care even lies. The latter is particularly important and is much like the 'Bermuda Triangle," where experts say that patients can disappear into a maze of "orthopedists, primary care physicians and osteoporosis experts" only never to be seen again (until they break a hip).
As always, information is power and the first point of care is truly you. Want to stay standing well into old age? Capture the fracture now.