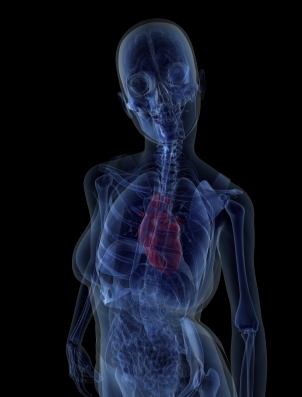 It's crazy, right? Not only do we have to worry about an increased risk of developing heart disease and osteoporosis and related fractures as we age, but it now appears that the two may be linked. In fact, in a study that will be published early next year in the journal Bone, researcher have found that an increased risk of fracture risk is associated with an increased risk of heart and related illnesses.
The findings, which are based on scientifically verified fracture and cardiovascular measures, show that among more than 300 healthy perimenopausal and post menopausal women who had the greatest likelihood for developing heart disease were 5.4 tines more likely to have a higher risk of a major fracture due to osteoporosis and bone loss, and 3 times more likely to have a higher hip fracture risk than women in the lower heart disease risk categories. This likelihood remained even after adjusting for factors such as years since beginning menopause, BMI, smoking and alcohol use, history of HRT use and level of physical activity.
The researchers acknowledge that although aging has been associated with both of these diseases, the link between the two cannot be explained by age alone.Indeed, other studies have shown that women with high cholesterol levels and other blood fat issues have lower bone mineral density measure. While more work needs to be done, the implication is clear: some of the many issues we potentially face as we age may be linked, especially among women. The message is pretty clear as well: take care of your bones and your heart benefits and visa versa.