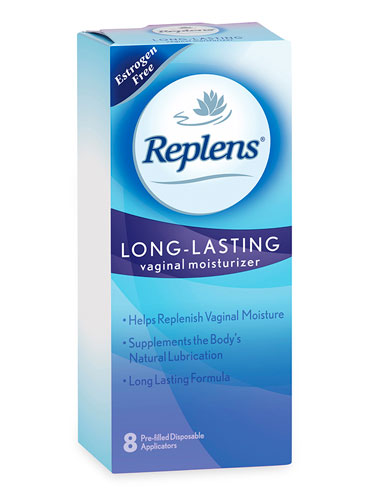 As many as half of all women going through menopause may experience vaginal atrophy — a thinning of the vaginal tissues due at least in part to a decline in estrogen. Although vaginal atrophy can occur during anytime in a woman's life, it's prevalence does increase with aging. And so do the accompanying symptoms of dryness, pain during intercourse, irritation, post-intercourse bleeding and of course, a decline in sexual desire and functioning as a result. While estrogen is certainly an option and prescribed by many clinicians for this problem, it's always nice to have non-prescription alternatives that work just as well.
One of those options is Replens®
Unlike many over the counter lubricants that are geared towards replenishing lost moisture, Replens does not offer an instant, fleeting solution to dryness just before intimacy, but rather, appears to provide lasting moisture. Consequently, its recommended use is every three days (or as needed), although it can be safely used daily.
Replens comes in a pre-filled applicator that theoretically places moisture where you need it most; deep within the vaginal canal. It doesn't have an especially pleasant or unpleasant odor or taste, although it is a bit on the sticky side. According to the manufacturer, some women may experience 'a residue or discharge after initial use,' which they attribute to the elimination of dead skin cells that may build on vaginal tissue and say will dissipate over time with regular use.
Although the evidence supporting its use is a bit scant, there are some data from a very small study comparing Replens to topical estrogen therapy over 12 weeks that shows equivalent and significant improvement in moisture, fluid and vaginal elasticity as the vagina returned to a healthy pH state. These data were more recently quoted in a New England Journal of Medicine review. It appears to be safe and importantly, is compatible with natural rubber latex, polyisoprene and polyurethane condoms.
Admittedly, I am most impressed that the company that manufactures Replens also manufactures RepHresh Vaginal Gel, a product recommended/prescribed by my gynecologist that I've personally used on and off for years. RepHresh is indicated for maintaining a healthy vaginal pH and for Group B Step vaginal infections and is truly a fine product.
Got dry? You may want to try Replens before you turn to vaginal estrogen cream. It has a good price point – $16.99 for an 8 pack of prefilled applicators which if used as directed, lasts for about a month. The company is also offering a $3 off coupon on its website. Moreover, if you have questions about sex and intimacy that you have been dying to ask but don't know where to turn, you can tap into an expert anonymously and free via their Facebook page.
Good company, great products, non-hormonal.
A perfecta trifecta to chase the dry away.
[Disclosure: a company representative contacted me via email and asked if I would like to try Replens. I was sent one box of product but was not reimbursed for this review.]