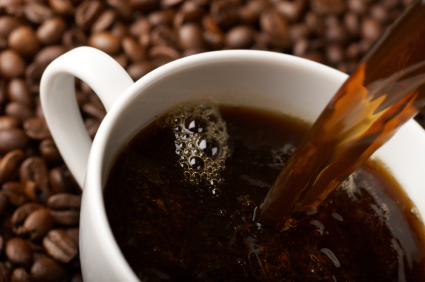 Coffee. The morning elixir that oh, so many of us rely on. Did you know that caffeine is the world's most frequently ingested psychoactive substance?!
We've heard a lot about the blues and depression during midlife and menopause, with some experts saying that the two are connected and others, that they are not. However, regardless of whether or not menopause increases the risk for depression, it is clear that depression affects twice as many women as men, and at least 20% of all US women at some point during their lifetime. Hence, if there is an easy way to boost the success of antidepressants or behavioral or other strategies, I'm all for it. And it appears that coffee may be the part of the solution.
Coffee? Really?
In a newly published study in the esteemed Archives of Internal Medicine, researchers say that they followed over 50,000 women and examined their food intake including how often they drank caffeinated and decaffeinated coffee, tea and soft drinks and and ate chocolate. During the 10 years of the study, researchers identified slightly over 2,000 cases of depression. However, it appeared that drinking two to three cups of coffee daily reduced the risk of developing depression by 15% compared to drinking one cup a day or less. Women who drank four or more cups a day had a decreased risk of 20%. And decaffeinated beverages? No dice.
In so far as this study goes, it's not conclusive and it could be possible that mildly depressed women drink less coffee. And keep in mind that  too much of a good thing is well, too much. Studies have shown that long-term consumption of caffeine can lead to tolerance, meaning that you need greater amounts to achieve the effects that many of us crave.  Nevertheless, so far, the results show that  coffee may very well be mildly protective against depression.
English playwright and theatre director John Van Druten once  said, "I think if I were a woman I'd wear coffee as a perfume." I think I'd rather just drink it than wear it!