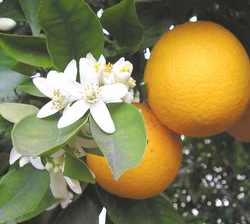 [Photo credit: Los Angeles Arboretum]
Stress. Lord only knows that it wreaks havoc on our bodies and on our moods. And when it's exacerbated by the tide of hormones that wax and wane over menopause, it can take an enormous toll. Importantly, the essential oil of the bitter orange tree (Citrus aurantium L. var amara), better known as neroli oil, has been shown in animal laboratory studies to reduce anxiety and depression. However, does it work in humans as well?
In a study published in Evidence-Based Complimentary and Alternative Medicine journal, researchers assessed if inhaled 0.1% or 0.5% neroli oil might relieve the psychological symptoms of menopause, i.e. stress, depression and anxiety. While the study included less than 100 women, it was a scientifically controlled trial and the women, all of whom were in menopause, healthy, and not using meds for their mental health  were randomized to neroli oil dissolved in almond oil or to almond oil only.. They were asked to inhale either preparation for 5 minutes twice a day for five days. Measures of sexual desire, stress, quality of life, blood pressure and pulse rate and blood serum and estrogen were taken at the start of the study and the day after.
Interestingly, inhaling neroli oil  significantly improved physical menopausal quality of life scores compared to inhaling the almond-only oil.  The 0.1% formulation also had a significant effect on vasomotor symptom scores. While stress levels were shown to decline in all three groups, the differences were not scientifically significant. And while the neroli oil did help to improve cortisol levels, it had no effect on estrogen. However, it did appear to significantly reduce blood pressure.
Aromatherapy is a practice that is not taken very seriously among medical practitioners yet it's important to note that neroli oil interacts with the very same neurotransmitters that play a role in regulating body temperature (i.e. the 5-HT receptors). Hence, it is not surprising that in this study, the 0.1% dose significantly improved vasomotor symptoms, Moreover, while the neroli oil did not appear to reduce stress, it did have a positive, significant impact on blood pressure measures, which indicates a role in relieving the body's cardiovascular responses to stress. The researchers say that neroli oil's influence on blood pressure might be due to how it interacts with the autonomic nervous system, which among many functions, controls heart rate and breathing.
While neroli oil can have side effects when it is ingested, I have been unable to find similar reports when a small amount (i.e. two drops) is rubbed on the skin and then used as aromatherapy. Nevertheless, you should speak with a licensed, knowledgable practitioner before trying this strategy as people as rubbing it on the skin may cause allergic reactions and does risk that some of it will be absorbed, thereby causing a drug reaction. Most importantly, one study does not proof make. Be vigilant and let's see if there are other reports in greater numbers of women.