I receive solicitations regularly on Flashfree and to be honest, I turn down most of them. But I paid attention to this one because I liked the concept behind the product. What product, you ask?
The Menopause Mop, of course!
Look, I am not a huge fan of the name and for many women, it may provoke images of a sweaty, wet mop that never dries out no matter how many times it's been wrung. However, when one of the three  'Hot Flash Sistas sent me a note explaining that she and her siblings — all currently in their 50s and experiencing symptoms — started to experience hot flashes, they (and I) decided to get busy. She says that "the idea sprang from needing and wanting something attractive, functional and fun for women going through menopause." Hence, the Menopause Mop was born.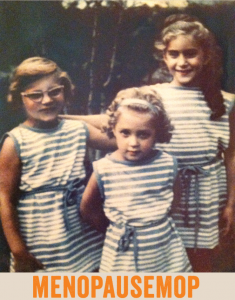 Characterized as 'neat, discreet and taking the heat,' the Menopause Mop is really a 100% cotton handkerchief that is custom-sized for women and hand sewn by Cousin Sista Judy (a cousin who attended the Fashion Institute of Technology in NYC). It comes with a nifty little breathable mesh bag and can be easily accessed to dab away excess perspiration when you are feeling the heat. Even better, a portion of the proceeds from The Menopause Mop go toward supporting the Ovarian Cancer Foundation. The Mops appear to be reasonably priced at $15 and come in four colors: Orange Orange, Polka Dot Purple, Pretty in Pink and Gardeny Green.
Moniker aside, these three Sistas are trying to take off in the menopause space.
Mop this and show some love.
[Disclosure: I was not offered monetary or product compensation for this post. I simply like the idea and I love that they are giving back and paying forward.]