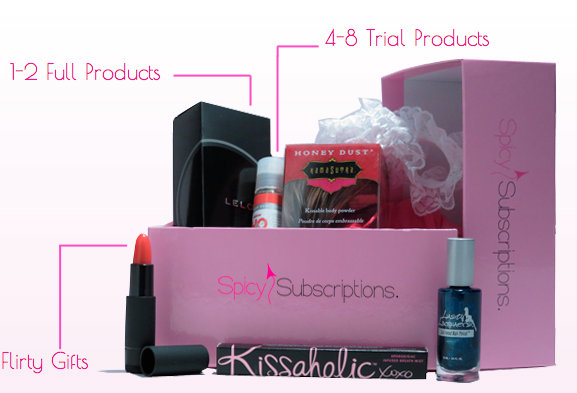 Ever since I first subscribed to Birchbox, I've been intrigued by monthly subscription services. I've given gifts of Bespoke to the favourite men in my life and ConciousBox to my health and eco savvy friends. Everyone who has received the monthly surprises in these boxes has been delighted. So, I am delighted to see that subscriptions have also moved into the boudoir.
I stumbled across SpicySubscriptions yesterday afternoon when I was taking a break from an otherwise hectic day. And, I love the idea of a gift of love to one who deserves it most: you.
I've not tried the Spice Box, but the idea is simple: monthly deliveries of lubricants, condoms, massage oils, candles, fragrances, sexual educational books, games, costumes, toys and lingerie to take the spice out of the kitchen and into the bedroom.
Sex during menopause can be challenging; women often have to deal with issues of vaginal dryness, a lack of desire or fatigue, all elements that can lead to sexual dysfunction. Not all of these problems can be conquered by a few toys or lubricant, but boy, oh, boy, shaking up the trees a bit sure can change one's perspective and perhaps restore some of that lost luster.
I've not personally tried SpicySubscriptions so I cannot vouch for the quality of the products nor the company itself. However, I would gladly sign up for the  'toy of the month' or 'spice box' subscription just as I have signed up for BirchBox.
What do you think? Is Spice Box worth a Friday Fling?