I have been meaning to share my experiences with the fitbit flex every since it arrived in my mail two months ago. Fortunately, a FaceBook thread debating the merits of wearable mobile health devices prompted me to finally sit down and gather my thoughts. True confession: this my personal opinion and nothing more.
The fitbit flex. Pretty nifty, right? However, anyone who knows me well will want to know why I purchased one in the first place; after all, I hardly need motivation to go to the gym or get on my bike.
Weight gain. That's right, weight gain (disregard the number below – it's not reflective of what I am referring to). And while a few pounds is hardly cause for concern, those of you in the midlife set will understand that some of the changes that take place in our bodies don't always bode so well. Hence,  I decided to take charge, contacted an RD to discuss my eating patterns and decided to monitor my activity a little more closely. The rub? The flex doesn't really monitor one's activity very well.
In fact, if you are not upright, it may not monitor your activity at all. That takes a bit more motivation to take the time to input your activity, time spent doing the activity, etc, time that might be better spent actually doing more of that activity.
If you look at my numbers over the past week, they look pretty good: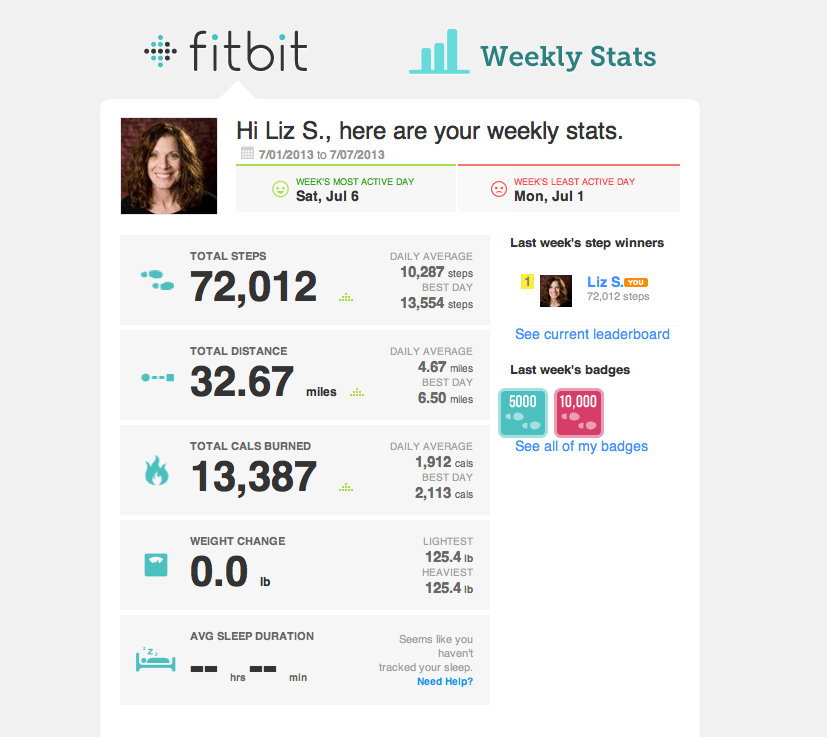 However, this is what they don't show:
Hours spent on the recumbent bike: 5
Hours rowing: 2
Hours gardening: 2
Hours spent doing housework: 3
They also don't account for the fact that the battery ran out of juice a few times and I had to take the flex off for a recharge.
Moreover, after the first week, I stopped monitoring my sleep. It didn't appear to be very accurate. And calories consumed or burned? Fuhgeddaboutit! If the band is not accurately reflecting my activity and I am not inputting any information about the food I'm eating, it's hard to accurately determine how many calories I am burning, right?
Is there anything that I like about the flex?
It's lightweight and I usually forget that I'm wearing it. That's a lovely feature. I think it's cool and although the weekly reports are not quite right, it's still nice to know that I have daily goal — 10,000 steps — that I am trying to reach if not surpass. However, as a tool to effectively monitor what I am doing and how I'm doing? The flex gets about a 3 out of 10 in my book. I want easy, accurate and intuitive. I want a device that thinks for me and not the other way around. Clearly, when you only spend $99 you are getting a Nissan and not an Infiniti. But, if you are going to drop the dollars in the first place, shouldn't you know what you are buying?
Admittedly, I ordered the flex before it became available. As an early adopter, I guess that I got what I paid for:  no guarantee.
On the flip side. I know that anecdotally, those of my friends who have difficulty motivating themselves to move more have been inspired by the flex and other mobile health devices. Moreover, data from one study demonstrated that users of a smartphone monitoring application were likelier to both log steps regularly and had a greater odds of exceeding the designated 10,000 step goal per entry. Less clear, however, was whether or not these changes in behavior would take hold permanently or were simply an anomaly of the shiny new object syndrome.
Already, I find myself losing interest in the flex and will likely abandon it over time. I find that I am no longer motivated to log in the extras that the flex can't record. An hour with my personal trainer would have likely been a better use of my money.
What about you? Do you have a flex or some other device? What do you like about it or dislike about it? Are you more or less motivated now that you have a device or will it end up in the land of lost tech toys?
Inquiring minds…
[Disclosure – Fitbit did not approach me with a suggestion to purchase a flex or write a review. The words, thoughts and opinions expressed are solely mine without bias or intevention.]