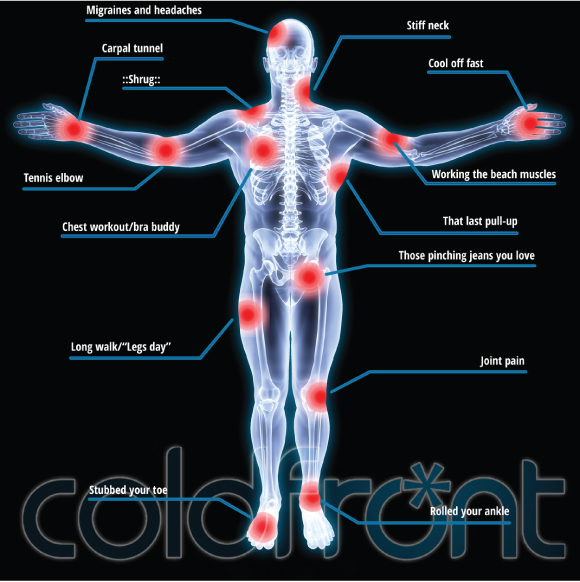 Cold Front ® is not simply for hot flashes any longer. In fact, entrepreneur and Founder of Personally Cool — Susie Hadas — is expanding her horizons and needs your help!
Although hot flashes may be the only game in FlashFree Town, there appears to be a need for cooling outside the menopausal boundaries. And let's face it; as much as me and several other esteemed menopause bloggers have tried to move the needle, talking menopause is not always easy. And engaging women who want to admit that they're not simply sweating but flashing can be an upward battle. Consequently, Susie and her team have gone back to the drawing board and emerged with a brand new bag: personally cooling is truly a global endeavour. Voila! A new Indiegogo Campaign has been born! And your assistance is needed!
I can assure you that Susie is not turning her back on menopause but looking forward to help millions of individuals worldwide who suffer from:
heat intolerance due to multiple sclerosis and thyroid issues

hormonal changes in men that also cause hot flashes
chemotherapy side effects
When I caught Susie on the Twitter stream announcing the campaign, I sent her a note asking for more details. She says that when she and her team were on the road,  "more people were talking to us – travelers, moms, fashionistas, runners, bikers, hikers, the list goes on. They were all asking us the same question, "Why aren't you talking to me?" So, she took a step back and decided to relaunch Cold Front on a new level.
Susie notes that in order to grow, they need funding. Moreover, the money they raise to produce another run will enable the company to produce wraps for the gel packs and a single larger gel pack which is what customers have asked for.
And yet, there is another element to this that I want to share with you:
Giving back.
Like many entrepreneurs, Susie has not rested on her laurels or profits and rather, has consistently and continually given back. An attractive aspect of the Indiegogo campaign is that the money that you donate can actually go towards funding three charities whose constituents will benefit from cold therapy:
Love to Langa, a Cape Townships, South Africa organization that is working to build and renovate Early Childhood Education Centers. Your gift of coldfront® will cool the children down and always be on hand as a non-toxic first-aid solution for minor bumps and bruises. 

Nayaya Health, a Nepal-based organization that provides care to residents of the Achham region of Nepal for free, and employs over 160 Nepalese citizens. (Nyaya Health has been using coldfront®  to keep staff and patients cool and aid in pain relief and they have requested more units).
CT Challenge's Center for Survivorship, a Connecticut-based  survivorship center offering evidence-based programs designed to help empower cancer survivors to live healthier lives.
Susie's campaign goal is $100,000 and she's got 35 days left to achieve it.
How about we chip in as a team and cool the world?