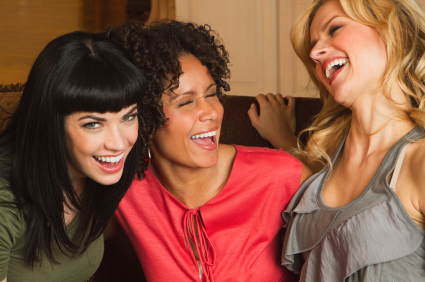 lasts.
I imagine that the link between laughter and health is no surprise. After all, that deep in your belly, can't stop it hurts, tears rolling down your face laughter may actually go a lot further than a moment of sheer bliss.
This past weekend, I spent time with friends and family members with whom I can share a good laugh. I can't tell you how healing and inspiring that was, so much so that I wanted to resurrect and share a post I wrote a few years back…
Several years ago, researchers discovered that humor therapy and anticipation of laughing or being amused (also known as mirthful laughter) positively affects immunity. In fact, findings from a series of five separate studies among healthy men demonstrated that just anticipating watching a funny video could increase beta-endorphins (hormones that elevated mood) as much as 17% and human growth hormone (which contributes to more optimal immunity) by as much as 87%. Elevated hormones levels were maintained throughout the video and as long as 12 hours after. Conversely, hormone levels did not increase in men who who did not anticipate watching a humorous video and instead, browsed magazines.
Similar results were seen in another study among healthy adult women; this time mirthful laughter was associated with significant declines in stress hormones and improvements in natural killer cells, which contribute favourably to immune function.
More recently, researchers have been examining the effects of mirthful laughter on actual disease states. Findings of a year-long study presented  at the Experimental Biology Conference in 2009 suggest that watching a funny, 30-minute video on a daily basis may impart a long lasting impact on health that includes:
Lower stress hormones (epinephrine and norepinephrine) and related stress levels
Lower levels of inflammation that can contribute to disease
Significant improvements in HDL cholesterol
Significant reductions in harmful C-reactive protein levels (a protein that increase the risk for heart disease, heart attack, stroke and death)
This particular study evaluated laughter in patients with diabetes, high blood pressure and high cholesterol who were also taking medication. Notably, similar positive outcomes were not seen in patients who did not have the benefit of watching the funny video.
Simulation laughter also appears to work wonders.
In case you are wondering what I'm referring to, simulated laughter is the foundation of laughter yoga, a worldwide movement that focuses on laughter exercises, including:
Pantomime followed by laughter
Physical greetings followed by laughter
Dancing and singing (and laughing exercises)
Laughing alone
Laughing meditations
Simulated laughter works in large groups, in pairs and can be playful or exaggerated. The theory underlying simulated laughter is that while the mind can distinguish between spontaneous and simulated laughter, the body cannot. Importantly, research bears this out, and a number of scientifically controlled studies have shown that simulated laughter can lead to reductions in blood pressure, improvements in stress hormone levels, positively affect depression and insomnia and even improve anxiety in chronic pain patients. Regular simulated laughter sessions can be used as effective coping strategies and benefit workplace morale. Even smiling can yield positive effect.
Can anyone do it? Well, clearly, anyone can laugh. But simulated laughter is a technique that is most effective when it's learned, practiced and developed. Not surprisingly, laughter yoga clubs have popped up across the nation, touting messages of helping people gain a happiness advantage. And data provide sufficient evidence that 'laughter has positive, quantifiable physiological and psychological effects on certain aspects of health."
What can we take away from this work and what does it have to do with menopause? Actually, I'd like to ask, what doesn't it have to do with menopause and midlife?
During the transition, women are subject to hormonal stressors that affect mood, functioning, wellbeing as well as disease risk. If there are simpler, more natural ways to improve healthy states, for example, by daily laughter, shouldn't we reach for them? I'd rather take a dose of funny over pharma any given day.
Here's my gift to you: laugh today. And tomorrow. And the next day. And spread the joy. Nothing like a deep belly laugh to take some of life's challenges away.