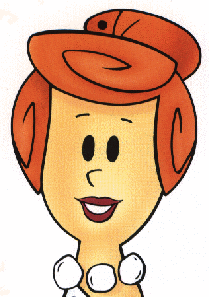 [Image: http://bedrock.deadsquid.com/information/profiles/index.php?profile=wilma]
You need Hot Girls Pearls! 
I'm giving full credit to my BBFF Amy Zimmerman for this fantabulous find. And if you are wondering about these baubles, they're for all you flashing fashionista babes who think being cool and confident isn't just a cliche. In fact, Hot Girls Pearls contain an icy gel to make sure that you won't be sweating at the office or during a dinner date. Going out for a hot night on the town? The only thing that's gonna be hotter than you sister is that woman next to you without her pearls! That is, if you dig the "Wilma Flintstone" look (as Amy points out). And lordy lord, how much do these babies weigh, anyhow? Just looking at them causes me to break into a sweat.
Still, I haven't tried them and you know what they say "don't knock it til you try it.' Personally, this isn't my look and big pearls are just baubles gone bad in my book.
Yikes! This one's got 'burstable' written all over it.
p.s. show Amy some love and visit her wonderful blog post about these babies…