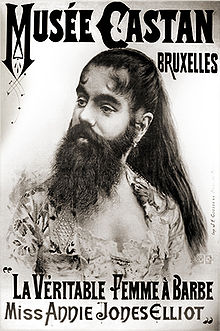 Yes, I am taking poetic license with the Japanese term "Hara-Kiri" which literally means to cut or slice the stomach. This phrase has been hijacked by slangers who refer to it as 'hari kari,' to off oneself or commit suicide.
I propose that using testosterone in hopes of improving sexual desire is a great way to cut off one's wellbeing and sense of self Chi, leaving hairs on the chinny chin chin and other undesirable locations.
Hairy kiri? You bet!
Back in 2008, I wrote about Intrinsa, a testosterone patch that was tested in a study of 841 postmenopausal not currently on hormone replacement therapy to test its effects on sexual desire after about a half a year's use. The results, which were published in the New England Journal of Medicine, showed that compared to a dummy patch, using low or high dose Intrinsa was associated with significant increases in sexual desire and a decline in sexual distress. Overall, the higher dose patch led to modest improvements in sexual function. In other words, wearing a patch was significantly better than using nothing at all but not life-shattering in terms of improving sexual function. However, the caveat was unwanted hair growth, which occurred in about a third of women using the higher dose patch and in about 23% of women using the lower dose.
Once I delved further into androgens and women, I learned that while it has been suggested that local circulating levels of androgens are associated with low sexual desire and sexual dysfunction, the data are contradictory. Moreover, in a fairly recent scientific review, researchers say that no single androgen predicts which women will have sexual dysfunction, making it even harder to address, right? What's more, they also note that laboratory studies have only limited value and aren't routinely recommended.
Looking more closely at different formulations of androgens like testosterone, e.g. patches, oral tablets, implants and injections, experts have found that the major side effects are unwanted hair growth and acne. Both are related to dose and how long treatment lasts, and disappear once treatment is stopped. And while rates of hair growth are definitely lower for patches in general (as few as 7%  to as high as 23%), as many as 36% of women who use oral testosterone have unwanted hair growth. Among those receiving implants, pellets or injections the number is also high: 20%.
Let's face it; the trouble is testosterone is that it may only address a miniscule amount of factors affecting a woman's libido and in literally leave a trail in its place. Don't know about you but I think it's a hairy kiri proposition. A few more notches on the desire scale and a few more hairs in your chin, on your chest and lord knows where else.
Committing hairy kiri ain't for sissies; that's for sure!