I've got an update for all of you earth-conscious souls out there; Micro-Kitty, the solar-charged vibrator, has some competition — the Solar Bullet! I've gotta admit; the names are almost as creative as paint and nail polish colors!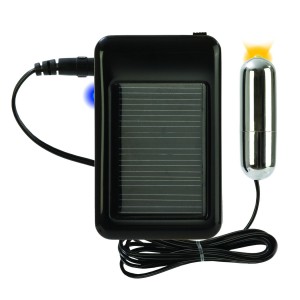 Regardless, the Solar Bullet vibrator offers two hours of pleasure at the price of 8 hours of sun exposure. Detractors say that the 'vibes' are too concentrated for them to derive much pleasure while fans of the Bullet say that it's great for travel since it can get off on any light source (pun intended). The energy pack itself, while pretty discreet, is about the size of a mini-iPod and frankly, looks like military gear (beware of the TSA agent who decides to take it out of your purse at Security!). An extra bonus is the LED light at its tip, which I guess, comes in handy if you can't see the keyhole in the dark (holy hell, those puns just keep coming and er….there I go again!).
I'm all for conservation but somehow, this design seems all wrong. I've not tried it so I may be shooting in the dark here, but even the eco-friendly box, which is printed to environmentally responsible Forest Stewardship Council approved standards isn't enough to convince me to go green to this extreme.