I have written a lot about the power of friendships to wash away stress and the everyday grind. So, when Shift Communications offered me a Toyota Venza for a week, I jumped at the opportunity to grab a gal pal, hit the road for the holiday weekend and refresh.
The 2014 Toyota Venza Limited AWD has a V6 engine with great pick up and good handling around curves. I drive a luxury car so I'm a wee bit picky when it comes to both but surprisingly, the Venza did not disappoint as we hurried to get out of Dodge for the windy Virginia countryside ahead of traffic and in enough time to beat Hurricane Arthur. And as skeptical as I might have been, I am now a convert.
A mid-size SUV, the Venza is still roomy enough for a couple of women who really couldn't decide what clothing to bring so as usual, packing took on a mind of its own. In other words, lots of clothes for a short weekend but lots of options as well! After all, how do you pack properly for antiquing, hiking, fine dining and a few trips to buy Virginia wine?! #letsgoplaces!
If you find yourself in the Charlottesville area, home to Jefferson's Monticello and the University of Virginia, look for accommodations off the beaten path. We lucked out with Bailey's Retreat, four separate cottages perched high above the Brown Gap Valley but only 9 miles or so from downtown, close enough to the entrance to the famous Skyline Drive in the Shenandoah Mountains and 15 miles from antiquing in Barboursville, home to the Barboursville Winery and the ruins of Virginia's 19th Governor , James Barbour  (pictured to the right).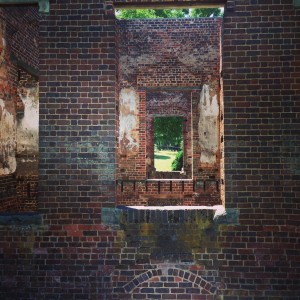 Bailey's Retreat is also only an hour away from the scenic Crabtree Falls, the tallest waterfall east of the Mississippi. There is a great hike at Crabtree – switchbacks all the the way up and a pleasant trip down after the hard work.
The view from the top is incredible!
Also close by and a must is the Trump Winery, which is located in the heart of Monticello Wine Trail. Mind you, I was the designated driver so I didn't sample the wines but my friend said they were wonderful. Trump offers outdoor picnic and cafe tables and a great selection of small plates. However the true draw is the view. They're also dog and kid friendly and appear to be the place to be on a beautiful afternoon for the locals too!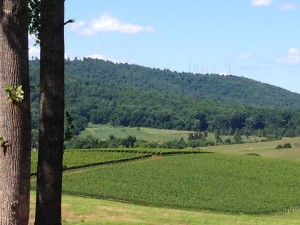 But I digress. The #Venza is a great road trippin car. Aside from a great handling around tight curves, it offers a Bluetooth, butter soft leather seats, a moon roof and a panoramic viewing panel for second row passengers (and it gets surprisingly good gas mileage to boot). I am beginning to understand why the Toyota folks are so in love with their Let's go places tagline. It is truly a great vehicle for hitting the road on a whim when a little time with good gal pals is just what the doctor ordered!
[Disclosure: Shift Communications provided me with the 2014 Toyota Venza free of charge and with no strings attached. Along with the use of the car, they provided a drop off service, a $50 Home Depot gift certificate and a great portable chair. Thanks Shift and Thank you Toyota!]