It's Skin Cancer Awareness month, an important reminder to use sunscreen.
Indeed, according to recent estimates, skin cancer accounts for half of all cancers in the U.S. More than 3.5 million cases of basal or squamous cell skin cancer are diagnosed yearly; these types of skin cancer are generally found on the base or surface of the skin and can be cured if treated early enough. Melanoma — the most deadly of all skin cancers that affects the melanocytes, or cells that create skin pigmentation — accounts for more than 2/3rds of skin-cancer related deaths; this year, more than 76,000 cases are expected to be diagnosed. And, one person dies of melanoma in this country every 57 minutes. 
In other words, skin cancer is not something to mess around with.
If you are like me, a child of the 60s and 70s, catching rays meant baby oil and tin foil. My father, who is in his late 80s, grew up on the beach and has spent the last 20 years having patch after patch of skin cancer removed. His body is a veritable skin cancer harvester, and he has even been permanently disfigured due to a botched procedure to freeze cancer cells below the surface of the skin on his nose. He's lucky; he's still alive and catching those cancers early enough.
I can't emphasize it more: wear sunscreen. Moreover, wear it when you are in the car!
A study in last June's issue of the Journal of the American Academy of Dermatology demonstrates that sun protection while driving is sorely lacking, despite the fact that driving evidently constitutes the largest percentage of total time spent outdoors, more than exercise or gardening. Moreover, on average, the majority of people in this country spend 80 to 100 minutes of their day in their cars.
Mind you, this is a retrospective study, which means that the researchers look back at events that have already occurred; this case, they mailed surveys to 675 patients who had previously attended a surgical clinic for skin cancer. Of all of these patients, 90% had a history of at least one type of skin cancer and 30, of malignant skin cancer.
Ironically? A majority did not believe that they needed to wear sunscreen while driving regardless of whether or not the windows were open or closed, although 53% of people with a prior history of skin cancer thought that they should wear it with the windows open. Real life use of sunscreen was different; about a third of these people reported wearing sunscreen "most of the time," while only 15% used it while driving. What's more, about a third of the people who reported wearing sunscreen most of the time while in a vehicle did not apply it to their arms or hands.
Additionally, having tinted car windows didn't seem to provide additional protection. An equal percentage of people with or without tinted windows developed non-malignant skin cancer (85%); the only difference was the side of the body the skin cancer resided.
Here's what you need to know:
Automobile glass does not contribute to skin cancer equally. Important factors include the type of glass, the degree of tinting and the presence or absence of lamination or UV-absorbing film.
In one study, clear auto glass transmitted 62% of UV radiation whereas dark-tinted glass transmitted 11.4%.
Windshields are made from laminated glass that allows, on average, 2% transmission of UV radiation. Conversely, your side and rear windows are typically non-laminated and allow up to 80% of UV radiation. This means that the shoulder, arm and hand closest to the window needs to be protected because they are receiving the highest exposure to UV rays.
But, there's a silver lining too!
Researchers at the University of Strahclyde in Glascow, UK have developed a monitor for preventing risk of overexposure to the sun. The device, which is called "Smartsun" is a waterproof wristband that changes color according to your amount of ultraviolet (UV) radiation exposure.
As exposure increases, the wristband turns from yellow to pink.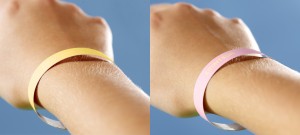 The change in color is created by an acid-release agent that detects UV light and a dye to responds to pH levels.
Smartsun is currently available through UK retailers but global shipping is available through echemist. I don't know about you but this seems like an easy way to keep track of sun exposure, even while driving.
Don't mess with skin cancer. Wear sunscreen. And check out Smartsun!