My friend and colleague Danielle Omar has been a contributor to Flashfree for some time now. When I read her post "How to Eat Processed Food" on her Food Confidence blog, I knew that I wanted to share it here. Sure, it's odd that a registered dietician is actually sharing tips on how to eat processed foods versus why you need to avoid processed food at all cost, however, Danielle has taken a unique approach that regular readers of Flashfree and Guyside will appreciate.
Thanks for allowing me to cross-post this terrific information, Danielle!
I eat processed food.  And so do you.  It's almost impossible not to. Food is "processed" as a matter of course to get it from the farm (or factory) to your table.  But wait, if you've done my detox or worked with me privately you know I'm all about clean eating and avoiding processed food.
So what's the deal? Well, let's start with what the word processed really means. Aside from what you can just pick and eat, most foods are processed in some way. At the same time, there are foods that people call "healthy" that to me are so processed they're not even food.
Look at heart healthy olive oil. It needs to be processed in order for the oil to be extracted from it, right? So how do we differentiate between the good-processed and the bad-processed foods? You  might say that a good-processed oil is one that is naturally pressed and unrefined. A bad-processed oil is one that is chemically pressed and refined. Because we live in choice-overload at the grocery store it can be confusing. My clients send me emails all the time asking are these crackers better than those? Which yogurt is better? And one of my favorites, would YOU eat this?
So let's clear up the confusion about the "P" word, starting with what I consider to be good-processed and bad-processed foods. Oh, and I can't speak to every single food out there so here's just a sampling of whatI eat.
Good-processed foods
bagged veggies (yes, those are processed)
frozen fruit and plain frozen veggies
miso
oils (as noted above)
raw or dry roasted nuts and seeds (I'm not talking Planters)
oats and plain oatmeal
single whole grains (i.e., quinoa, millet, wild rice, etc.)
canned beans (BPA-free like Eden foods) OR boxed beans (Whole Foods has these)
tuna and salmon in a can (high quality stuff like Vital Choice, Tonnino, Wild Planet)
dried fruit (no sugar added)
Plain and organic yogurt (this is a sketchy area; lots of good yogurt that's not organic or plain)
goat cheese
salsa
granola (like KIND, Purely Elizabeth)
crisp bread crackers (like WASA, Orgran, Finncrisp)
energy bars (like Lara, KIND, 22Days)
I've got a bit of a hierarchy going with the good-processed foods. For one, I look for minimally processed items. These potentially boxed or bagged foods contain ingredients that I recognize and that I would use at home to prepare the food myself.  Yes, this means that I take a bit more time while shopping to read the ingredients. I don't mind this because the grocery store is my partner in eating clean. It also means that just because a food is gluten-free or is made with quinoa or greens — that doesn't mean it's clean eats. Take, for example, this roasted garlic chicken frozen dinner, a gluten-free gem made with spinach from Lean Cuisine.
Ingredients: Water, cooked chicken tenderloin (chicken tenderloins, water, seasoning), modified corn starch, sugar, potassium chloride, yeast extract, dextrose, spice, onion powder, garlic powder, paprika), soybean oil, isolated soy protein, sodium phosphates), spinach, skim milk, onions, carrots, 2% or less of modified corn starch, cheese flavor (cultured milk, salt, enzymes), soybean oil, white white, butterfat, Asiago cheese, salt, cheese flavor (cheddar cheese, cultured milk, salt, enzymes), water, salt, enzymes, cultures, phosphoric acid, xantham gum,  seasoning, (autolyzed extract, flavors, water, chicken powder, chicken fat, sugar, sodium lactate, sodium, phosphate lactic acid) potassium chloride, roasted garlic, dehydrated onions, basil, enzyme modified Parmesan cheese, puree, whey, yeast extract, whey, carrageenan, spices, caramel color, chicken fat flavor, cultured whey, turmeric. 
I don't cook with many of these ingredients. For me, I just don't want the added chemicals (read: toxins) clogging up my cells. I've got enough of those coming in from just living and breathing. I'm thinking you probably don't either. So my answer to this is simple: I don't buy the Lean Cuisine. Instead, I buy some chicken breasts, sprinkle on some spices, and cook at 375 for about 25 minutes. It really is that easy. I can do it and I don't even eat chicken.
Bad-Processed Foods
The list of these foods is long and I will not even try to do it justice here. I will just say that these foods areextensively processed in order to be edible, they are not found as is in nature, or they are foods processed using chemicals that I don't want to be eating. I'm talking mostly about GMOs, additives, preservatives and artificial flavorings. Now some in the food industry might argue that the healthiest food in the world is processed. And that food fortification plays a large role in meeting our nutrient needs. And that processing helps enhance and preserve food quality. All of that may be true. Whole grains are processed and I encourage you to eat them. However, you can get your whole grains in their natural state (see my good-processed list above). You don't have to buy into this (yes, this is an extreme example):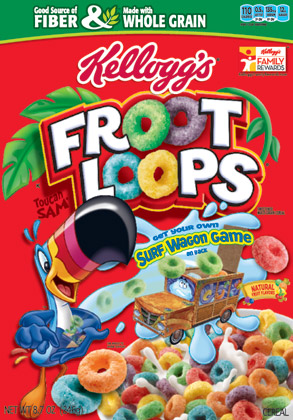 Ingredients: Sugar, corn flour blend (whole grain yellow corn flour, degerminated yellow corn flour), wheat flour, whole grain oat flour, oat fiber, soluble corn fiber, contains 2% or less of partially hydrogenated vegetable oil (coconut, soybean and/or cottonseed), salt, red 40, natural flavor, blue 2, turmeric color, yellow 6, annatto color, blue 1, BHT , Vitamin C (sodium ascorbate and ascorbic acid), niacinamide, reduced iron, zinc oxide, vitamin B6 (pyridoxine hydrochloride), vitamin B2 (riboflavin), vitamin B1 (thiamin hydrochloride), vitamin A palmitate, folic acid, vitamin D, vitamin B12.
All of you Froot Loops lovers are cringing right now, aren't you? Please don't be fooled into thinking that a bowl of bad-processed cereal in the morning is good for you because it has whole grains in it. Because it also has red 40 and blue 2. Oh, and yellow 6. And blue 1.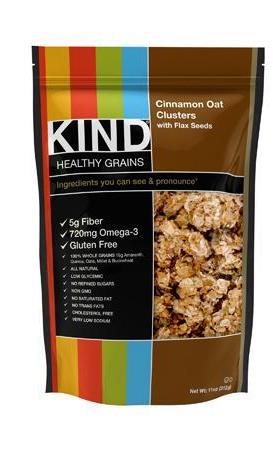 If whole grains are what you're after, it's save to say that this would be a cleaner, good-processed choice:
Ingredients: Whole grains (gluten free oats, brown rice, buckwheat, amaranth, millet, quinoa), evaporated cane juice, flax seeds, chicory root fiber, canola oil, molasses, cinnamon, sea salt, Vitamin E
Processed food does not have to be a curse on society. It can be a part of a healthy, clean eating lifestyle —  if you choose good-processed foods most of the time. But to me, eating clean is about more than just choosing the right nutrients on an ingredient list. It's about how your food is prepared. It's about eating food mostly in it's natural state.
Yes, processed food is convenient and sometimes necessary, but preparing your own food is a necessity, too. One that takes a little more time, a little more confidence and a little more knowledge of cooking than does tearing open and bag or box and digging in. But I promise, the more you do it, the better you'll get at it, and the more you'll appreciate it.