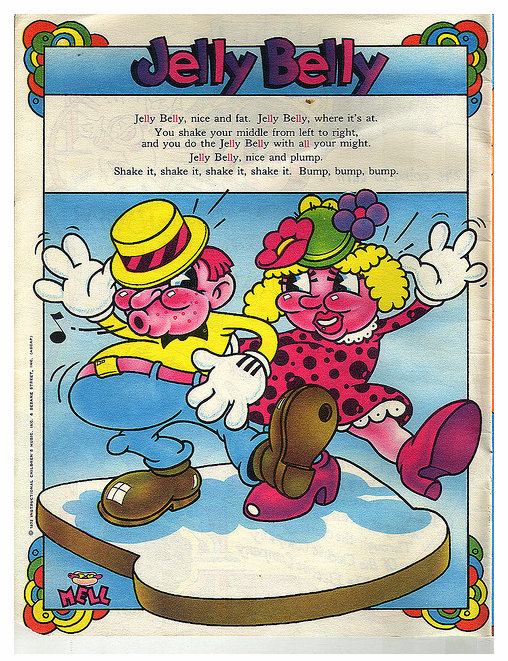 [The Electric Company – Retro-style illustrated lyric page for "Jelly Belly." Art by Mell. From the Electric Company Original Cast album booklet, 1972. Courtesy: 4-Color Cowboy Vintage Print Collection]


Sigh. I've written about this, I'm experiencing it, heck, I'm stumped.
Belly fat.
It's a well-known fact that many women's fat storage begins to shift as they go through menopause. However, many women are unaware that this fat storage pattern is downright dangerous, dramatically increasing the risk for conditions like diabetes, heart disease, stroke and even some cancers.
While experts have made the connection between declining estrogen levels and an increase in fat deposits in the mid section, they have not entirely understood how it happens. That is, until now. Indeed, when researchers from Concordia University in Canada and the Mayo Clinic joined forces, they discovered that cells are the culprit. Yup, cells.
Let me explain.
Professor Sylvia Santosa, the leading investigator, says that she and her colleagues undertook the investigation because of the dangers associated with belly fat in postmenopausal women, noting that she felt that it was important to understand how low estrogen levels redirect fat storage. Consequently, she compared fat storage in 12 premenopausal and 11 postmenopausal women who were, on average, roughly 50 years old. To insure accuracy, the women all consumed the same meals for 5 days before the study and were matched by age, weight, and similar body weight, BMI and body fat compositions. They also examined the activities of fatty acids and certain enzymes that promote and alter fatty acids so that they wind up stored in the last place we'd like them to be stored: our bellies.
What they discovered is that twice as many dietary fatty acids —  the type found in meals instead of the type that flow freely in the bloodstream — were being deposited into abdominal storage in postmenopausal that premenopausal women. The reason for this doubling was that the decline in estrogen appears to increase a certain protein in tissue that stores fat in the belly, and that its partner in crime – an enzyme had as much as 40% higher activity in postmenopause.
To put it in plain English: the overall fat storage machinery in postmenopausal women is faulty. Not only are we storing more fat than ever before, but our cells also don't want to let go of it. Yikes!
While researchers continue to tease out the culprits so that they can figure out how to optimally target them, we are left with a dilemma: what now? Short of changing your diet and re-upping your exercise, or paying for fat extraction, there's not a whole lot of 'what.' Unfortunately, many of us may need to live with the jelly belly the best we can.