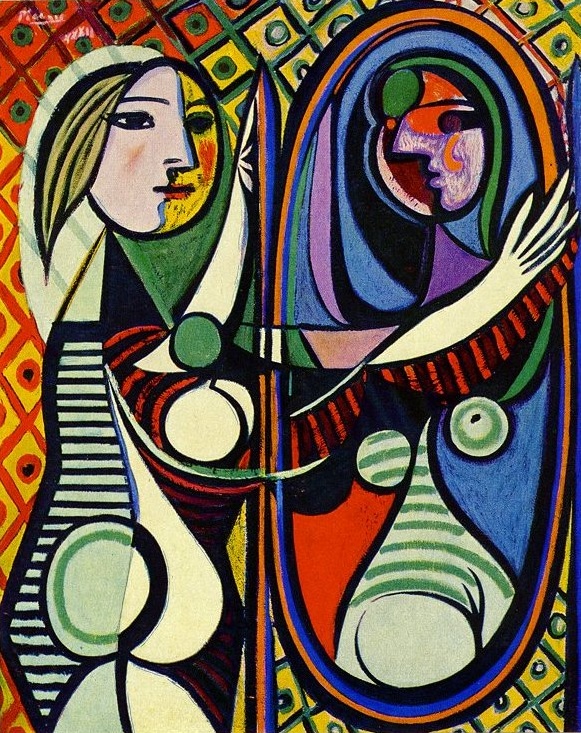 [Girl before a mirror. Pablo Picasso. Boisgeloup, March 1932]
What do you see when you look in the mirror? Or perhaps a better question is 'who?'
I have noticed something odd, something that is sending me into a bit of a tizzy.
I feel older. And the reflection I see in the mirror is not something that I like very much.
It's a bit of a shock, as I've always managed to keep the aging bug at bay. I've spent years exercising daily, eating right and engaging in strategies that are supposed to boost physical and emotional health and wellbeing.
Yet, something is missing.  A piece of me.
I spend a lot of time on this blog talking about aging and the importance of seeing yourself from the inside out. I've discussed what it is like to become invisible in the workplace, how our bodies are redefining themselves, often without our help or intervention, and how old habits are starting to die hard, really hard. I've tried to empower you to take charge and accept, but not without going down with a fight against the more negative aspects of the aging process. I wonder where I've lost myself within this equation.
Anais Nin is quoted as writing that we don't see things are they are, we see things are we are. But what happens when what we are, what we've become, is skewed by our changing vision? How do we navigate that path without the self-criticism and negative self talk, you know, that voices that we use to tell ourselves that we look old, that our face is sagging and the lines are growing deeper, that the cellulite is more defined, that our midsection appears to have added a bit of extra cushion? When is the appropriate time to rewind and erase the tape and create a new voice?
That time, at least for me, is now.
I apologize for the personal nature of this post, the rambling self indulgence; it's likely that you are wondering what the heck I am talking about and why, after all, this blog is about evidence and information and data. But I realized this past weekend that the me in 'menopause' has somehow gotten lost in the Flashfree shuffle. And that when I actually take stock, I feel a bit long in the tooth.
I'd like to hear from you, dear sisters, about your favourite strategies for overcoming self doubt, for changing the mirror image, for turning off the voices and for freeing your body, mind and soul from the aging bug.
This week, I am turning myself over to you. And I want to hear from you.
Who do you see when you look in the mirror?