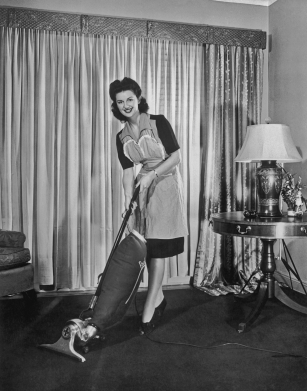 Have I got your attention yet?!
It's no surprise that hot flashes and night sweats rank among the most important factors when it comes to poor sleep. However. less clear are the factors that may provide a buffer against the flashes. And aside from the usual suspects e.g., crankiness and moodiness or the inability to focus, poor sleep has been linked to heart disease and obesity, among other less desirable health conditions.
So, what can you do?
I've written about the benefits of physical activity and amelioration of menopausal symptoms many times on Flashfree. And, I imagine I will continue to do so. But what about sleep? There is evidence that physical activity can help bolster both sleep quality and sleep quantity. Yet, few people have examined the domino effect, i.e. fewer hot flashes  ← physical activity → better sleep. Moreover, even fewer have considered the benefits of non-leisure physical activity, like housework.
Now, before you accuse me of setting women back 60 or 70 years, let's consider exactly what I am suggesting.
According to research, women participate in less leisure time physical activity but greater levels of household physical activity than their male peers. This is apparently truer among ethnicities other than Caucasian (especially African American), who also tend to have greater levels of obesity and poorer sleep characteristics. So, it would follow that by increasing both, women might fare better in the sleep department, right?
In fact, when researchers took a small group of women participating in the larger SWAN study and evaluated their self-reported and scientifically measured sleep patterns for four nights, that is exactly what they found. The group, which was comprised of both White and African-American women, reported having flashes or sweats, were between the ages of 54 and 63, had an intact uterus and were not on medications that could affect hormone levels or symptoms. And while the number of women was quite small (only 52), they fit into the full spectrum of BMI targets (from normal to obese to overweight). In addition to sleep patterns, they also shared details of their most common daily physical activity (how often, how long and how intense) and household/caregiving responsibilities (time spent caregiving, preparing/cleaning up after meals, and routine chores as well the intensity of these activities).
Not surprisingly, women who had greater levels of leisure physical activity were 8 times more likely to report that their sleep quality was better than their less active peers. And, women who reported greater household, non-leisure physical activity awakened fewer times during the night, but only if their BMI levels were lower. Yet, the benefits were mostly seen more among White women. Even more troubling is that the researchers say that they could not determine the 'why' of these findings, even though they conducted several different types of analyses and comparisons.
The good news is that for some women, engaging in greater levels of household physical activity and leisure physical may reduce sleep disturbances, especially if they are not overweight. For others, especially my African-American sisters, the mystery remains. African-American women often report more severe hot flashes than their White peers. And while experts have pointed fingers towards rates of obesity or distinctions in estrogen levels or smoking history, the reasons remain unclear.
Meanwhile, while I am not necessarily suggesting that you increase your household responsibilities, I do believe that even with the limitations of this study, more physical activity may beget better sleep and possibly fewer or less severe hot flashes. Finally? Can we please find some effective and viable strategies for women of colour? Although the menopause experience may vary by ethnicity, as women, we need to find solutions that work for most of us, not some of us.