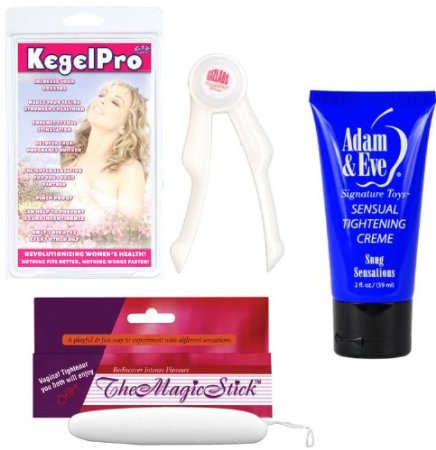 I swear, I don't mean to take a mick out of Kegel exercises; they have proven invaluable for regaining pelvic floor strength following pregnancy, disease and even in the case of stress incontinence. And yet, when I see a product like KegelPro, I simply can't help myself.
KegelPro reminds of Suzanne Somer's Thighmaster, a nifty product designed to reduce thigh size. Not surprisingly, the Thighmaster was marketed by the same guy who developed the Mood Ring (remember those)? But I digress.
KegelPro is being co-marketed in an exercise bundle an Amazon — not only do you get a nifty device that looks like a plastic speculum — but, it comes with the Magic Stick Vaginal Tightener, Adam & Eve Vaginal Tightening Lube & an After Sex Towel. Seriously, you can't make this up.  
And the product description is even better:
"Exercise your way to make your vagina stronger and healthier. By using the Kegel Pro, you will enhance sexual stimulation, recover from pregnancy quicker and heighten sensations for you and your partner. All you have to do is concentrate on squeezing the muscles around the inserted Kegel Pro. Such an easy way to increase your orgasms! Works like magic! The Magic Stick is a vaginal tightening stick that helps to shrink the vaginal wall giving both partners a sensational feeling. With simple instruction for use and care, you will find this stick truly magical. Rediscover intense pleasure! Enjoy a fuller love life with Adam & Eve Sensual Tightening Creme! Use this vaginal tightening cream to increase chances of orgasm during sex, enhance your sexual performance, and grip every inch of your partner. Simply apply a liberal amount to your desired area. Squeeze tube with flip-top lid holds 2 oz. of creme. Get snug sensations tonight!"
By the way, KegelPro sells for $42. The package? $85. The product reviews? Priceless! Evidently this 'Pharmaceutical grade piece of plastic' is truly a novelty item. No wonder they threw the After Sex Towel into the deal.
Ladies – take Kegels seriously. The KegelPro? Bursting this bubble, even if it comes with a tamp…er, Magic Stick!