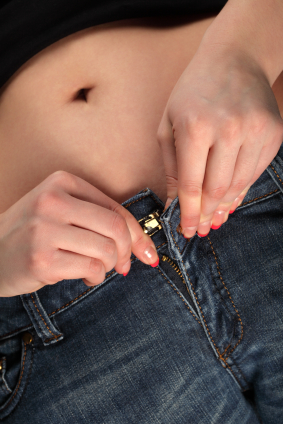 I am on a roll! On a roll around my midsection, that is.
Ever wonder why women may be likelier than men to gain fat in their abdominal area, especially as they go through menopause? Yup, we've talked lots on Flashfree about estrogen, exercise and even stress and the release of cortisol and how they affect that growing tummy donut. However, researchers are now adding another factor into the mix that may occur especially in women: a high-fat diet. Mind you, this particular study, which is published online in Diabetes journal, was conducted in mice so it's way too early to comment on how the findings affect actual humans. But what it does imply is that diet might not be the only factor at play and in women, genetics and gender play an equally important role.
Researchers say that when female mice were fed a high fat diet, it triggered the production of an enzyme (called aldehyde dehydrogenase 1) that produce a hormone — retinoic acid — that boosts the formation of fat around the abdomen. Let's step back; high fat diet leads to enzyme, leads to retinoic acid leads to belly fat. Got it?
Interestingly, not only is this enzyme activated at nine times the level in female versus male mice, but when removed, this domino effect disappears. What's more? Estrogen can suppress the enzyme so when it starts to decline, women become more prone to developing that midsection bulge.
The culprit here is vitamin A and how the female body processes it. One of the functions of vitamin A is to produce a molecule that supports how the body burns both fat for energy and retinoic acid. Evidently, high fat diets can directly shut down the fat burning molecule and the domino effect begins, resulting in the midlife bulge many of us have come to know so well.
The good news is that on a regular diet, female mice barely produced retinoic acid, meaning the simple solution for women may be to stay away from high fat meals as much as possible.
If you can't burn it, and you can't rely on estrogen to keep the fire going (or take it away -ironic, right?!), then take some steps and do it yourself.  D is for diet. F is for female. The endgoal? Do the math.