What does stone soup have to do with menopause?!
Last week, I dedicated this blog to wellbeing, exploring the strategies by which we can build our inner resources so that we are more resilient to stress and change. Within that armamentarium of resources lies the spirit of cooperation. And, Stone Soup is a folktale that explores the spirit of cooperation and the miracles that that spirit can yield. It has evolved into a cultural and corporate tale that is often used in team building efforts. Nowhere is this becoming more important than in medicine.
My dear friend Regina Holliday embodies the spirit of cooperation both in front of and behind the scenes. Her heart knows no limits. And her enthusiasm is infectious, which is why I wanted to share her latest effort with you on this blog. You can read this post in its entirety on Regina's
Medical Advocacy Blog
. In fact, if you are unfamiliar with Regina and her work, I recommend that you head over to the blog pronto and spend some time perusing the archives. Meanwhile? This incredible woman has created a means by patients can find partners, advocates can find fellow advocates and the medical community can finally find a way to meet in the middle. And I have no doubt that Regina will be standing tall in the center of this amazing gathering when the waters part. For this is the miracle that is Regina Holliday.
Want to be a partner forging the future? Then don't miss this excerpt.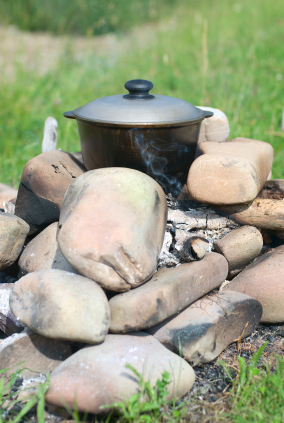 In a little over two months the 
Partnership with Patients Summit
 will be held in Kansas City and we will be using the stone soup model.  We will have a gathering of the Walking Gallery, a traditional conference day and an unconference day.  People who self-define as patient/patient advocates will congregate with partners.  The partners could be providers, techies, venders, academics, organizations or health policy wonks.  We will gather together to make a conference with everyone throwing something into the pot.  There will be a non-profit partner, business partners and regular people creating a crowd-sourced and crowd-funded conference.
The idea of a stone soup/crowd-sourced conference has confused a few people.  We are once again practicing some creative destruction of the traditional form.  This event is not funded by CMS
Partnership for Patients
, yet we are reporting back to them and focusing on their goals.  This event is not organized by a non-profit, though the 
Society for Participatory Medicine
 has agreed to create and oversee a travel fund to help patients attend medical conferences such as this one.  
Cerner
 is hosting us in their space and acting as a partner, but this is not a Cerner conference.  This is a patient summit; and I may be stirring the pot, but I am one of many around the fire.
The Venue
Cerner has graciously offered to provide the "cooking pot" for our conference in the form of theirRiverside educational building.  This once was a casino many years ago, and is a rather appropriate venue to place a bet.  We are betting  that we can do much if we just work together. The building has been retrofitted with rooms and technology that supports educational opportunities. You can register for the conference on eventbrite at 
Partnership With Patients
 and ticket proceeds will pay for the overhead costs.  The overhead cost will include food, transportation, shuttles and conference materials.
Travel Scholarships
 I asked the Society of Participatory Medicine if they would consider being our non-profit partner whose responsibility would be to create a patient travel scholarship fund.  The board agreed that this was a good use of their energy and was in step with their mission.  They further added they would like to create such a fund and continue to solicit funds for future conferences.  Please send donation checks to The Society for Participatory Medicine PO Box 1183 Newburyport, MA 01950-1183.  Please make checks payable to the Society for Participatory Medicine and mark in the memo line "Travel Fund."
Or you can donate online at the donations page, just click on the 
Travel Fund 
button. The Society for Participatory Medicine is a 501(c)3 public charity. They will present a panel discussion during the conference explaining the concept of the society and participatory medicine. For the Partnership With Patient Summit they will be offering a limited number of $500 travel grants.  The quantity they will be able to offer will be based on donation amounts they receive.  Those who wish to receive such grants will write an essay explaining their need. Grantees will be chosen based on review by a committee from the Society.
I am asking you today to please donate to this fund.  No amount is too small.  Everything is appreciated.  If you are able to give more that is wonderful.