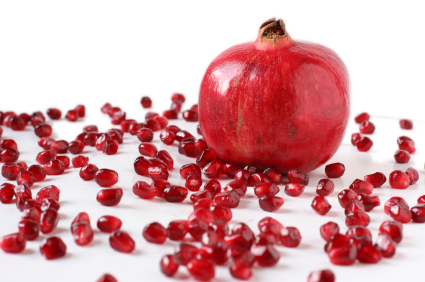 Let us go early to the vineyards to see, if the pomegranates are in bloom… Songs of Solomon 7:12
Pomegranates have had a place in the bible and many religions for centuries. A shrub fruit native to the Middle East, the pomegranate is valued in culinary and in complementary and folk medicine circles. As a fruit, there is none so tempting and tantalizing as the pomegranate – its seeds, both sweet and tart, are challenging to obtain and sensual in appearance.
Pomegranate seed oil is a rich source of phytoestrogens, plant-like compounds with estrogen properties that may influence estrogen receptors and modulators in the body. Its main components include  linolenic acid (an unsaturated fatty acid that is in the omega-3 family), punicic acid (a conjugated polyunsaturated acid) and ellagic acid (an antioxidant found in many fruits and vegetables). Studies in mice suggest that pomegranate oil may be helpful in lowering blood pressure, counteracting insulin resistance and preventing prostate, colon, lung and breast cancer. Because of its estrogenic properties, it may also be useful for menopausal symptoms. Or not.
A study that appears in the online version of Menopause explores the value of pomegranate seed oil for hot flashes in 81 women. Over a 12 week period, these women received either capsules, twice daily, that contained 30 mg pomegranate seed oil or placebo capsules containing sunflower oil.  All women participating in the study were in menopause for at least a year and reported having at least five hot flashes a day. None had taken hormone therapy within 3 months of starting the study, which of course, could affect results.
Women taking pomegranate oil experienced significant benefits, reducing the mean number of hot flashes by 4.3 a day. However, women taking placebo also reported significant reductions in hot flashes by as much as 2.5 per day. After 12 weeks, the pomegranate oil group had a reduction in hot flash frequency by as much as 38.7% compared to the placebo group, who had reductions by as much as 15.6%.  Based on these numbers, it would appear that pomegranate seed oil was indeed, significantly more effective than placebo, right? However, the researchers say that the total reduction in the frequency of hot flashes was no different between women taking pomegranate oil and those taking placebo. At the same time? When they tracked the women past this time period (up to 24 weeks), they found that the differences remained, suggesting that the effects of pomegranate oil may be sustainable and even take a longer treatment time to reach its full effect. This warrants looking into its potential with larger studies of longer duration.
One thing to mention is that it did appear that pomegranate seed oil also benefited other symptoms, in particular sleeping disorders, which is in line with other studies looking at isoflavones. And, no side effects or serious adverse events were reported.
So does it or doesn't it? Undoubtedly, the placebo effect plays a role in all clinical studies, whether or not they are focused on pharmaceutical treatments or complementary therapies. Other studies of phytoestrogens have shown mixed results and a small number have met the criteria for scientific design. Still, there is a question about the role that time plays; many herbal medicines are well known to take some time before reaching full potency in the body in order to exert any sort of intended effect.
I say that the verdict on pomegranate seed oil isn't in yet. It's not the panacea we'd like to see but it also isn't a flat out failure.
Meanwhile,  I love that I once heard chef Jose Andres suggest that the best way to access its seeds is to pat it like a baby's bottom.
Stay tuned for more news on this jewel of the fruit world.