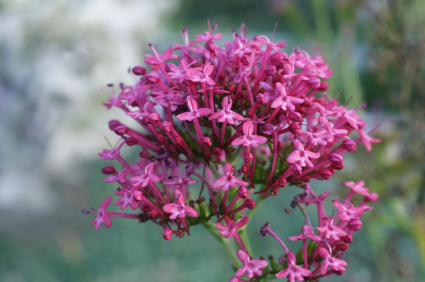 I was out the other day with a few friends and one of them mentioned to me that she was not sleeping well, mainly due to the start of night sweats. She asked me what my secret was. To be entirely honest, I laughed; while I've managed to shut down just about every other symptom associated with perimenopause, a full night's sleep continues to elude me. Still, ever the optimist when it comes to alternative strategies, I pointed her to a few potential interventions that had some strong evidence backing their use for night sweats and symptoms in general, which by default, may help sleep issues.
Ironically, a newly published study in the journal Menopause focuses on valerian and its potential use for insomnia during menopause. A bit more about valerian:
Valerian is a perennial that is native to Europe and Asia but is grown in North America. It is well known for its sedative properties and was used by the Greeks and Romans as early as the second century AD.
In modern times, valerian has been used for insomnia and other sleep disorders. It has a GRAS (generally recognized as safe) designation by the FDA and is prescribed as a sedative in Germany under Commission E approval.
Valerian, which comes most commonly in tablet, extract (tincture) and tea forms, is reportedly among the eight most widely used herbal supplements in America, and data from 2002 suggest that approximately 2 million adults in the US report using it on a weekly basis.
Okay, so we know it's safe. But, does it work?
To date, reports about valerian effectiveness have been mixed, with some showing benefits with regards to sleep and others, no benefits. In this latest study, researchers evaluated 100 menopausal women between the ages of 50 and 60 who were not using hormones and did not have any medical or psychiatric conditions that would interrupt sleep.  The women, all of whom had been in menopause for at least a year, used a supplement containing 530 mg valerian daily or placebo tablet. Over the course of the study, they were asked to report sleep information using a scientific questionnaire measuring:
quality of sleep
length of time required to fall asleep
length of time asleep
ratio of time asleep versus total time in bed
anything that disturbed their sleep
use of sleeping medication
any interruption in daytime activities due to lack of sleep
The result? Valerian was shown to significantly improve sleep quality in as many as 30% of participants compared to placebo, which the researchers say, support its use in the management of insomnia. Moreover, valerian reportedly does so without any significant side effects that are generally associated with sleep agents. Nevertheless, individuals using valerian have reported feeling hungover or drowsy the next day.
Inarguably, many factors affect sleep quality beyond hormones including stress, partner issues, use of alcohol or other drugs or caffeine, light conditions and psychiatric issues like depression and anxiety. In an accompanying editorial, the author claims that in addition to the loss of progesterone, societal pressures are at play, namely the loss of "youthful appearance in a culture drenched with youth-oriented values" and "post-bedtime ruminations" resulting from change in social roles and associated mood disorders. Granted, while cultural issues may be a factor in some women, I hardly believe that  aging's toll interferes with sleep or that a woman's sense of worth is an overriding cause of insomnia. Indeed, many optimistic, happy women start losing their sleep numbers as they age.
Regardless of the overriding cause, insomnia affects roughly half of all menopausal women and the problem pervades just about every aspect of a life as a result. If valerian offers relief, I say go for it. If anything, it's a safe tool that may improve sleep quality.
Got sleep? Maybe valerian holds your key to getting enough zzzs.