When it comes to science and research, women have long gotten the short of end of the stick.  Not only have women been historically excluded from medical research trials, but despite National Institutes of Health regulations mandating the inclusion of women and minorities in clinical trials in order to obtain funding, research on women's health has continued to lag behind their male counterparts'. Only recently has this issue reared its head again as findings from March, 2014  The Women's Health Summit  demonstrate important disparities in the scientific process that highlight one of the most important issues facing women today:
"When we fail to routinely consider the impact of sex and gender in research, we are leaving women's health to chance. The evidence on sex differences in major causes of disease and disability in women is mounting, as are the gaps in research."
Not only are women routinely excluded from research on cardiovascular disease (despite its ranking as the number one killer of women, only 1/3 of clinical trials enroll women and only 1/3 report on sex-specific outcomes), but, women suffer twice as often from depression and yet, fewer than half of laboratory studies utilize female animals to evaluate metabolic differences. And these examples are the tip of the iceberg!
So, it's no surprise that these gender differences also affect nutrition.
As my friend and menopause colleague Staness Jonekos points out in her new book, Eat Like A Woman (and never diet again):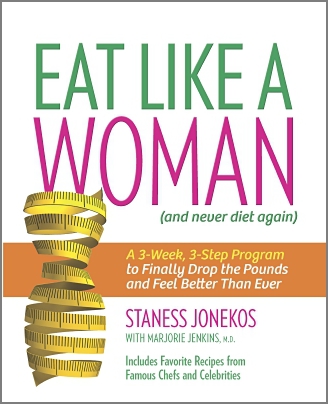 It takes women's stomachs' an hour longer than men's to empty after eating.
For the most part, women have lower energy expenditure than their male counterparts due mostly to differences in body composition; notably, estrogen plays a major role in energy expenditure, appetite and body weight. An imbalance in hormones that are secreted by one gland can affect hormone levels in other glands.
The thyroid, which Staness refers to as the 'Metabolism Mama,' is important for metabolism, energy, grown and development and the nervous system. When it's out of whack, it can wreak havoc on weight, appetite and even mimic the symptoms of menopause. Moreover, research has demonstrated a direct interaction between estrogen and direct expression of thyroid sensitive genes; what this means is that if you are using hormones to manage your menopausal symptoms, you'll want to have your thyroid checked.
Cortisol, which I've written about frequently on Flashfree, is another important player. Produced by the adrenal glands,its primary role in the body is to regulate energy (by producing blood sugar or metabolizing carbohydrates, protein and fats) and mobilize it to areas where is it most needed. Research has shown, however, that  women have higher cortisol levels than men, and that certain women –especially those with greater amounts of abdominal fat — may be reacting to a large disruption in the release of cortisol that causes a greater than normal difference between morning and evening levels of the hormone. This disruption is believed to be related, at least in part, to exposure to prolonged physical and mental stress. The psychological component is huge, because it tends to trigger the desire to consumption of food that is high in fat and/or sugar, which also tends to promote abdominal weight gain.
Staness also writes about the role of neurotransmitters, chemicals released by nerve cells that carry messages between the brain and organs. They can affect mood, appetite, sleep, heart rate, appetite and weight, among other functions. Poor dietary habits (low intake of dietary protein, poor carbohydrate choices or minimal omega-3s, for example) coupled with hormonal imbalances and excessive alcohol or caffeine can lead to neurtransmitter imbalances. The bottom line? Hormonal changes may affect the actions of neurotransmitters, which in turn, affect mood and lifestyle choices. Staness further explains that lifestyle habits can affect hormones, thereby affecting neurotransmitters. Think of an endless loop: chronic stress triggers cortisol, causes weight gain, cravings, affecting serotonin levels and thyroid functioning, which then influence metabolism, cholesterol, etc. WOW!
Women's digestion is also distinct from a man's, in that we taste food differently. Staness explains that women are 'supertasters,' with varying sensitivities to bitter flavors depending on hormone levels. Women also have a higher risk for irritable bowel syndrome, acid reflux, acid related ulcers and other conditions due to the size of the esophagus, small intestine, colon and rectum.
Staness writes that "there are many confusing messages about what to eat or not eat surrounding us," and she poses a critical question: "how can one message or one plan apply to everyone? We are all different and yet our basic needs as women are the same." Toward that end, she offers up a dietary plan that supports women's health through each life stage and addresses various dietary controversies, ranging from soy to animal protein to salt to caffeine. And, she reintroduces the food pyramid that she says, is one of the biggest factors contributing to the success of her previous book, The Menopause Makeover.  Notably, for all you paleo people out there, the ratios that Staness recommends are similar to the average portions consumed by our Stone Age relatives. The key?
25% of your calories should come from healthy fats
35% of your calories should come from low-fat, lean protein
40% of your calories should come from low- to medium-glycemic carbohydrates
Staness' program is served up in three steps that includes approaches to meals, healthy emotions and exercise. However, she doesn't stop there; she's reached out to her favorite celebs and chef for recipes that should please any palate. And if you are seeking even more information, Staness offers additional tools and resources on her website .
What do you get when you combine sound science and nutrition? A plan that makes eating make sense…for women. Isn't it time to change the paradigm? This seems like an awfully great place to start.
About Staness…
Staness Jonekos is an award-winning television writer, producer, and director, as well as an author and writer on women's health issues. Her first book, The Menopause Makeover, was a pioneering work in the field of menopause, a highly visual and inspiring survival guide that challenged the conventional, old-style approach to managing menopause. She is a tireless advocate for women's health, wellness and empowerment.  She has appeared on The Today Show, contributes to The Huffington Post, and has been featured in a variety of publications ranging from The Houston Chronicle to More.com.  Her co-author, Marjorie Jenkins, MD, FACP is  a Professor in the Department of Internal Medicine, Division of Gender-Specific Women's Health Director and Chief Scientific Officer, Laura W. Bush Institute for Women's Health Associate Dean for Women in Health and Science. Her motto? "You have to know the difference to make a difference."