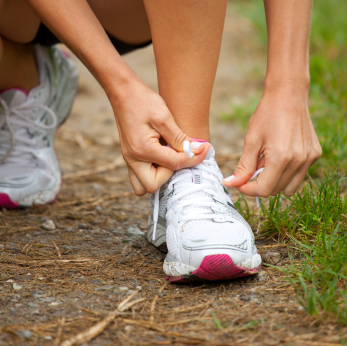 Exercise. Does it or doesn't it? That is, does exercise improve menopausal symptoms? Some studies have shown that it does; and others, like the one I am about to share, shows that it does not.
I am fit to be tied, literally.
Not angry or annoyed but rather, regardless if exercise can improve vasomotor symptoms or not, there is absolutely no doubt that it helps maintain weight, improves overall wellbeing, promotes healthy bones, and may even result in better sleep in midlife. On Wednesday's post, I shared information about a series of studies called MsFLASH, studies geared towards identifying strategies to alleviate menopausal symptoms and overall health. Today, I ran across one of these trials, published online in Menopause, the goal of which was to clarify the impact of three times weekly aerobic training in women who were in late perimenopause or full menopause reporting frequent and bothersome hot flashes and night sweats.
Exercise/aerobic training can mean a lot 0f things. This time, women who were randomized to 12 weeks of exercise participated in trainer supervised conditioning comprising a treadmill, elliptical or stationary bike for 40 t0 60 minutes each session, with the goal of reaching up to 60% of target heart rate for the first month and up to 70% thereafter (this, along with workload and perceived exertion was measured throughout each session). Likewise, the women had energy expenditure goals relative to their body weight. The other group of women were asked to maintain their usual activity levels but at the end of the study, were offered a one month gym membership or yoga sessions.
While the verdict wasn't so great for reduction of the frequency and bother of daily hot flashes (both study groups reported declines in hot flash frequency by roughly 2.5% and bother only changed minimally), adhering to training sessions appeared to favourably move the needle for sleep quality and quantity and yielded small improvements in depressive symptoms. Another interesting finding was that race appeared to play a role. Data have shown that African American women actually experience more severe hot flashes than their white peers. And, in this study, while exercise had some impact, albeit minimal, on hot flashes and night sweats, this impact was only seen among white women.
Still unanswered are whether or not small bouts of exercise can positively impact vasomotor symptoms or if individual differences (such as the one that race provides) also play a role. While these questions are being pondered, I'll leave you where I started: exercise and menopause? Fit to be tied. Don't give up the activity; it may not help your flashes but it yield a whole lot of benefits beyond cooling the heat that ails.