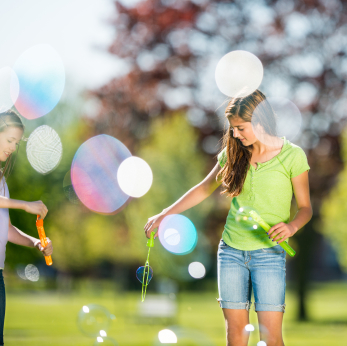 I am bursting a big bubble today. The topic? Aging skin. Lord knows it's a common theme among the women I know. And many women spend thousands (if not tens of thousands) of dollars on creams, lotions, botox, fillers, face lifts and the like to prevent wrinkles, make them disappear or preserve what they have.
Among the many culprits linked to aging skin, cumulative sun exposure is the worse. Ultraviolet (UV) light wreaks havoc directly on proteins and acids in the skin cells, impairs collagen and elasticity, and at its worse, promotes the development of skin cancer.
So short of spending thousands on the above, what can you do?
WEAR SUNSCREEN!
I can't emphasize it enough.
Experts have been telling us for years that sunscreen can protect against the development of skin cancer. Guess what?! For the first time, researchers have shown the wearing sunscreen can also protect against skin aging. Moreover, a good sunscreen costs a heck of a lot less than costly cosmetic procedures that requires regular maintenance or endless surgeries to remove skin cancer patches.
In a newly published study appearing in the Annals of Internal Medicine, researchers assigned 903 adults under the age of 55 — most of whom were fair skinned and burned when exposed to acute sun — to two groups:
Roughly half applied sunscreen, SPF 15, to their head, neck, arms and hands every morning and were asked to reapply it after spending several hours outdoors or after heavy sweating or bathing.
Half were asked to apply sunscreen, SPF-15, at their discretion
The study participants also received a daily beta-carotene capsule or a placebo
At both the study's start and after about four and half years, the researchers took impressions of the back of every hand. To insure that the groups were 'sticking with the program,' so to speak, they were also asked to turn in suncreen and return the pill bottles for capsule counts every three months.
The findings? Well, at the start of the study, a little over half of the participants showed moderate photoaging; four years later, 49% had skin showing aging to the same degree. And, only the people who used daily sunscreen did not have a detectable increase in the severity of their photoaging. In fact, daily sunscreen users were 24% less likely than discretionary users to have experienced increased skin aging! The same findings were not seen among people with higher grade photoaging at the study's start. And no differences were seen between beta-carotene and placebo tablet users. Importantly, the results did not appear to be linked to any change in time spent outdoors or in other sun protection methods.
The reason that the 'under 55 set' were chosen for the study is that the majority of their photoaging at this stage in their lives is due to sun exposures. So, the findings might not apply to adults older than age 55 whose aging skin is also due to other factors in addition to sun exposure. Still, the researchers say that a unit increase in photoaging grade is related to a visible deterioration in skin texture and an increase in visible small blood vessels and pores on the face. It also correlates significantly with a risk for keratoses and skin cancer.
Still unknown is whether or not a sunscreen with a higher SPF would achieve even greater results. And there are a few scientific limitations to the study; for example, a third of participants did not have skin impressions taken at the study's start (although the researchers argue that this did not appear to affect the results), and the study numbers were too small to conclude a true lack of benefit with beta-carotene. Yet, what is clear is pretty simple:
Wear sunscreen. Not only will it help to protect against skin cancer but, it also appears to yield a cosmetic benefit, preventing visible aging. That's a win-win in my estimation!