Earlier this week. Fox Business ran a piece claiming that the gender pay gap was nothing more than a myth. Some of the more interesting conclusions suggested that there are fewer women in select fields was because they choose to work in industries that pay less such as education, versus those that pay more (and where you find greater numbers of men), such as computer and engineering.
The author writes: "women sacrifice pay for all sorts of reasons including security, safety, flexibility, and fulfillment. Their priorities are vastly different than men's. And when you account for that, when you compare apples to apples, when women actually make the same career choices as men, there is no gap. Men and women earn the same." He adds that even when women pursue higher paying fields, such as medicine, they tend to gravitate towards areas that are less stressful, such dentistry rather than specialize in stressful positions such as surgery. Moreover, men work more hours.
While he acknowledges that women are having babies and do most of the child rearing — obvious factors that contribute to the gender pay gap — he claims that these are personal or societally-driven decisions and that truly, the glass ceiling has been broken.
Is this man living under a rock?!
I can rest on my laurels, throw a bunch of statistics in your direction and reinterpret the findings to provide evidence that the gender pay gap is a thing of the past. Or I can share the following proof that it's not, that this author's primary point, if you pay close attention to the article, has nothing to do with gender pay and more to do with his opinion that the Federal Government should not be wasting its time trying to equal the paying (pun intended) field.
That aside, let's get down to brass tacks.
According to the latest figures from the Bureau of Labor Statistics, women continue to be paid less money than men in all but 7 of 534 occupations – respiratory therapy, computer support, operations research analysts, stock clerks, medical scientists, bookkeeping/accounting, and packager/package handlers. You can see the differences in the chart below as outlined by the Center for American Progress: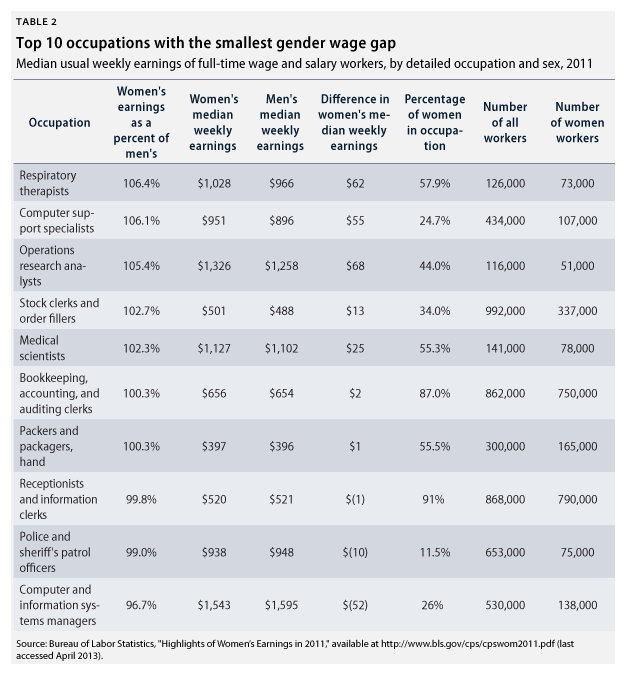 [Source: Center for American Progress]
Moreover, it's not simply a matter of women choosing not to enter higher paying fields; often there is a discrimination bias taking place. For example, as Perry Hewett wrote in a 2011 Forbes.com piece, a key reason that women are lacking in tech is because this male-dominated industry is not broadening its professional networks to include more women. Anecdotally, I hear this all the time from my female techie friends. Importantly, the problem is magnified many fold among women of color who are trying the break the barriers. This problem is coupled with the need to improve girls' access to science and technology programs (and boosting their interests in the same) so that we are producing a greater field of qualified applicants. And my gal pals also echo Hewett's contention that visibility is a huge issue; even women who participate in more highly visible events are often invisible to the masses. Those who speak up are often ostracized when they do. The problem is pervasive.
In medicine, the reality is just as harsh. Although women are now entering medical school in droves, studies have suggested that gender discrimination is a large factor driving where females ultimately end up; in one survey, 75% of women on a surgical track had experienced gender discrimination. More specifically, female physicians have three choices in order to excel:
deny that there is any distinction between her and her male colleagues, thereby joining the man's clube and be subject to be treated as a "neuter"
assume a more traditional societal role as a seductive, helpless, dependent female, which means she is then treated as a sex object
become a superwoman and compulsive overachiever in career and family roles in order to supercede expectations in all areas of her life
As I've written previously, gender and age discrimination is also pervasive in the film and entertainment industry. I'm sure that there are more fields, more data, more anecdotes; I've simply scratched the surface with the most obvious. However, the issues underlying and driving the glass ceiling are complex. In some areas, women have shattered it; in the majority of others, it is intact. And to overcome the challenges we face as women, it's more than simply leaning in, or making choices other than the ones that many women are forced to make.
The gender pay gap? It's real and not going away anytime soon. And it will take more than empowerment to move the needle. I'm not entirely sure what the answer is. But when it comes to action, the future is now.