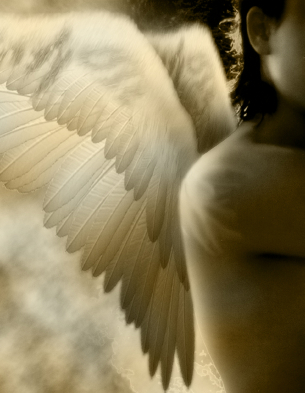 What do you do when you put out an open call for life stories and an angel answers? That's Beth Collins, co-creator of Elizabeth's House, a resource center for women who want to rethink, renew, and reinvent their lives. Truly, I could not have found a more ideal person for a series about reinvention.
Who is Beth Collins? Beth is a personal and creative coach and her story of reinvention is focused on beginnings. To Beth, reinvention starts "from where you are to all that you know. It's saying yes to something more and then creating the space in your life to find out what that more looks like."
She explains that her calling to create on behalf of other women came during a time in her life when she had reluctantly left a dream job in college administration to become a working and then full-time, stay-at-home mom. However, answering her ultimate calling has been anything but easy; in fact, her ever-shifting path has been wrought with roadblocks and detours. When she left the corporate world for a world of  play dates, room mothering, volunteer committees and booster clubs, she still had an urge to serve women in transition, an itch to scratch that would take more than six years to realize as she followed and supported her husband through multiple relocations. At the age of 46, just as she was finally hitting her stride and passion, she was sidelined again: "I got hit by a truck, literally."
Through a 'jaws of life' rescue and time in the neuro-ICU, Beth faced yet another tough decision: rest or keep going?
In the mid 1980s, Austrian Monk Bhanke Dhammika wrote the Dhammavadaka, a poem designed to present inspiring aspects of a Buddhist's life. One line in particular resonates:
None can live without toil and a craft that provides your needs is a blessing indeed. But if you toil without rest, fatigue and weariness will overtake you and you will be denied the joy that comes from labour's end.
Like Dhammika, Beth realized the value in rest and so, she resigned from yet another job that she had grown to love to allow her body proper time to heal. Not surprisingly, in this quiet she heard yet another calling and in 2006, began a mentoring and coaching business for women who were ready to reinvent their lives. "I had clients in five states and was curious when I realized that these women were all asking for the same things," Beth explains. "They longed for a community that would support their journey of change. Inspired by their requests, I began envisioning what a place like that would look like and in 2007, opened the doors to Elizabeth's House, a gathering place for women who want to reinvent their lives."
Elizabeth's House embodies a lifetime of  dreams combined with a unique passion to help women. Beth's personal story? It's one of "pure belief in a dream, letting go of the outcome and saying yes to what showed up." And while she says that some would characterize that attitude as courageous while others may call it crazy, the women who've landed at the door of Elizabeth's House call it a gift. "Together we rally when a woman quits the job she hates to create something new and when returns to that job after realizing that it wasn't the job she hates. We rally around trying new things, getting it wrong, marriage, divorce, cancer and even suicide. It's been life -changing for the women who find us and for me."
It's not surprising that women helping women lies at the core of Beth's story of reinvention. She says that unquestionably, "What I've learned, what I know beyond any doubt," is that self-help books, online support and endless "coaching" programs are not enough for women who long to reinvent. They are going to need other women who are willing to tell the truth about their lives. They need to know that they are not alone in their desire for change."
Say yes and let go of the outcome(s). You may take a beating to get your wings but eventually, like Beth's they'll grow into something beautiful.