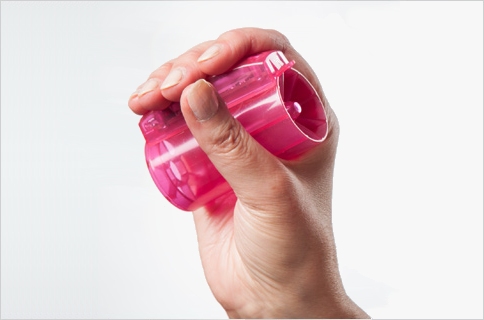 As my Cold Front friend Susie Hadas knows, I take no prisoners on this blog, especially on Wednesdays. So, when 'BlowMeCool' approached me via the Twitter back channels to review their mini-fan, I warned the administrator in advance that things might not be so pretty.
Let's just start with the name.
Blow Me. Yes, there is another word there but I find that I can't quite get to the 'cool' part. I keep getting stuck on blow me. And I am not sure if that speaks more to my foibles than to theirs'.
In an accompanying press release, BlowMeCool is described as 'a mini-fan [with] not exposed propellers or blades. Its unique design allows it to operate while hidden in the hand, delivering a stream of air that women who experience hot flashes will love.' "It's so quiet nobody even knows when I'm blowing myself cool – having a friendly little fan during my hot flashes – is pretty cool," a user is quoted as saying.
Yet, here's the rub. Unless you have hands the size of a man, this little nifty device is not quite discreet enough nor is it quiet enough, say, for pulling out in the middle of a meeting with new clients. But I digress.
When I opened the package, I was struck by the fact that BlowMeCool appears to have little hot flashes of its own as its battery runs out of juice. Irony much?! However, I applaud that manufacturer for the chargeability factor; you simply plug this nifty little device into your computer and bam! You are charging its lithium battery. Wait! What if you don't have a computer? Huh!
I truly believe that the company is on to something special here. But I'm waiting on the next generation — something even smaller, quieter and a model that offers the user charging flexibility. Two hours of cool ain't bad but if you out and about and nowhere near a charging station, it might not be enough for the woman with hourly flashes. And the plug for the husband complaining about night sweats? This little itty fan is not going to dry the sheets when the sweats hit. And the name? Please please please think about a new name. The name is a recipe for disaster.
Does BlowMeCool 'blow?'
Yes and no. You decide.
[Disclosure: BlowMeCool provided me with a device to review but did not provide any compensation for this post. Nor did I request any. The opinions are strictly mine.]