Equal opportunity blog? You bet. This post may have appeared a few years ago but it's still as relevant today as then. You're a man in midlife or approaching midlife. What are you yearning for? Now? Or then?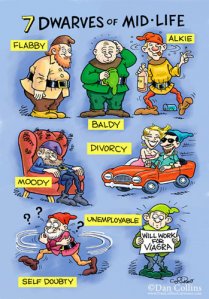 [Used with permission. Dan Collins. http://www.dancollinscartoons.com]
In Laura A. Munson's poignant "Modern Love" post, 'Those aren't fighting words, dear"  she writes about the crisis of self that may seem familiar to many  in midlife who are watching or have watched their husbands or partners implode. In the post, (which I highly recommend if you've not read it) Laura writes:
And I saw what had been missing: pride. He'd lost pride in himself. Maybe that's what happens when our egos take a hit in midlife and we realize we're not as young and golden anymore. When life's knocked us around. And our childhood myths reveal themselves to be just that. The truth feels like the biggest sucker-punch of them all: it's not a spouse or land or a job or money that brings us happiness…
The premise that happiness comes from within is not a new one. However, the midlife spin on it can be a wake-up call of epic proportions, when we start reaching for a gold ring that actually resides out of sight. Yet, why are we yearning for what was rather than what is to be? Aren't life's many transitions, including the one that our partners and each of us are facing, movements into the next phase of productivity or change or growth, rather than a loss of self?
I've had many conversations with women who are facing or have faced situations that are similar to Laura's. Overwhelmingly, they say that women tend to themselves a little at a time so that the crises never quite reach the precipice. That many women are able to deal with their physical and emotional changes incrementally so that the ultimate metamorphosis — who they are during and at the end of their lives — is not a monumental shock.
Dick Roth, in his wonderful book "No, It's Not Hot in Here,' devotes a chapter to men in midlfe. He says that men should repeatedly ask themselves three questions:
What won't pass away when my youth does?
Who will I be after my career is over?
Who would I be if everything else was gone but my mind and feelings?
Referencing the book The Diving Bell and the Butterfly, Roth adds that the protagonist's lack of self-pity and ability to cherish his soul provided him with the foundation to overcome his physical confinement (the author, who was completely paralyzed by a stroke except for a single eyelid, was only able to communicate by blinking this one eye).
Cherish your soul. Sounds a lot simpler than it is. Or does it?
As much as we expect our partners to understand what we are going through as hormonal changes wreak havoc on our psyches and our bodies, we must also be willing to offer the reverse, to acknowledge the changes and struggles that our partners are going through, their self-confinement, and perhaps their inability to cherish or tap into their souls.
Midlife doesn't have to be a four-letter word. What rings true for women, also rings true for men.
Seize it.