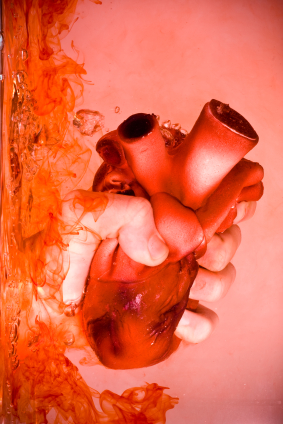 Be still my heart? Not this week. At least not as far as hot flashes and night sweats go. In fact, study findings that will be presented this coming weekend at the  Endocrine Society 's 94th Annual Meeting suggest that hot flashes and night sweats that many women experience early in their menopause are not related to an increased risk for heart disease.
So what's the 4-11?
Researchers have previously questioned whether or not timing of symptoms play a role in a woman's increased risk for heart disease during menopause. They've found that experiencing symptoms only around the time menopause begins may actually reduce the risk for heart disease, or the risk of stroke, heart attack or death (compared with women who experience symptoms later). (If you'd like more about heart disease, aging and menopause, an archive of posts can be found here). To learn more, they have now analyzed the presence of markers in the body that have been linked to heart disease risk (e.g. high blood pressure, cholesterol, blood sugar, insulin, and specific blood markers that might indicate inflammation), in almost 60,000 women who were in menopause and had participated in the Women's Health Initiative Observation Study.
These women were separated into groups, depending on the presence and timing of vasomotor symptoms:
1) No symptoms
2) Symptoms at start of menopause but not at the start of the study
3) Symptoms both at the start of menopause and the start of the study
4) Symptoms at the start of the study but not at the start of menopause
Importantly, women who had symptoms early in their menopause but not late did not appear to have elevated markers that may indicate heart disease risk. In comparison to this group, women whose vasomotor symptoms occurred only late in menopause appeared to have increased risk, mainly due to higher blood pressure and higher white blood cell counts. Those whose symptoms started early and persisted appeared to have higher levels of glucose and insulin, which indicated an increase in the risk for diabetes.
The researchers, who harken from Northwestern University, note that it's unclear why timing of symptoms may influence heart disease, although the lead investigator, Dr. Emily D. Szmuilowicz has speculated that symptoms that occur long after menopause begin may indicated some sort of blood vessel abnormality. And while she and her colleagues have not suggested a strategy to attenuate this risk, it is clear that due diligence is needed. If your symptoms persist well into your menopause, see your health practitioner and ask him or her to run some tests. More importantly, hindsight is 20-20; be sure to instill lasting heart healthy habits early and maintain them while you age.