I have been intrigued by whole body vibration (WBV)  for a few years now. If you've caught earlier posts, you'll recall that whole body vibration was developed in India and then passed onto the Greeks to improve overall functioning. More recently, it was used  by the Russians to rehabilitate astronauts who may have lost muscle and bone mass during space missions. Now, however, it's embraced by many sports medicine clinics and fitness facilities and gaining widespread popularity as strategy for improving leg muscle strength (and by default, balance and mobility) among adults as they age.
Positive evidence continues to accumulate in favour of WBV and in fact, researchers have conducted an extensive review of existing studies to assess whether or not WBV training can decrease the risk of falls and fractures. This is important since women as young as 35 years start to lose bone density and strength and by the time they reach the age of 50, they have a 40% risk of suffering a fracture due to osteoporosis during the rest of their lifetime. Moreover, during the first five years after menopause, women can experience as much as a 30% loss of bone density.
A bit of detail….this specific analysis included 15 studies enrolling both men and women between the ages of 64 and 82. Half of them included women only. WBV was conducted between 1 and 5 times per week over a period of 6 weeks to 18 months, and vibration was delivered during the sessions from anywhere to 15 seconds to 3 min for up to 27 times. The techniques were either vertical vibration (in which one stands on the platform and the vibration is delivered upwards), or side-alternating (in which the vibration is delivered side to side; this strategy apparently mimics a see-saw and the natural human gait.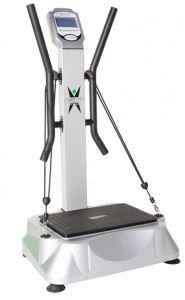 Overall, they found that WBV may help to improve basic balance ability (i.e. sitting and standing balance) and offer significant benefit in terms of overall functional ability, especially in frailer individuals. Less clear, however, is whether or not it is effective in ultimately preventing falls; in this case, one could argue that by improving balance, WBV lowers fall and fracture risk but it isn't so clear cut. What may actually be the case is that WBV plus an exercise program can help to do both.
So clearly, the verdict is still out on the usefulness of WBV. What's more? The exact regimen that offers the most benefit remains unknown. Still, it's clear that some data suggest that as we age, there are strategies other than drugs that might help to keep us walking and balanced.
As always, there is no time like the present to get moving on exercise and bone health awareness. You may be in your mid-30s and believe that nothing is going to change, but the stats are stacked against you without some sort of self-intervention.
Positive vibration? You bet!