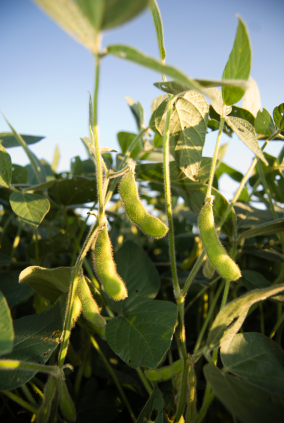 It's been a rough ride for soy, with studies often at odds regarding its effectiveness in ameliorating or preventing hot flashes. Some reviews have shown that soy isoflavones, in particular S-equol and genistein can alleviate hot flashes while others fail to finding anything conclusive. Still, the original observation that Japanese women appear to suffer less frequently from hot flashes and have a high consumption of soy isoflavones has led researchers to keep trying to tease out the benefits of soy.
I am glad that they have. In fact, in a study published online in Menopause  just a few weeks ago, researchers reported that an extensive review of 19 scientifically sound trials has shown that soy isoflavones are significantly more effective than placebo in reducing both the frequency and severity of hot flashes.
Here's what you need to know:
19 trials were included for analysis and a variety soy isoflavone supplements in different doses ranging from 30 mg to 135 mg daily were studied. Some of these were natural formulations and others, chemically synthesized to match key ingredients believed to have a health effect.
Hot flash severity and frequency were examined in women that were either premenopausal, perimenopausal or menopausal (i.e. postmenopausal) although definitions used to define this group differed between studies.
The number of women in these studies totalled over 1,200.
The results showed that taking 30 to 80 mg soy isoflavones daily for 6 months to a year significantly reduced the frequency of hot flashes by roughly 17%. Moreover, the 10 trials analyzed for hot flash severity showed a significant reduction by as much as 30%. In both cases, these figures increased depending on how the researchers teased out and analyzed the data.
The researchers say that even though there is a common perception that results from soy trials have been mixed, there has been a "consistent and clear pattern in favor of isoflavones over placebo" when properly plotted on a graph. Moreover? The scientifically designed studies that were included in their analysis helped to insure that all populations, including women with breast cancer, were included. Additionally, they analyzed studies that were as short as 6 weeks in duration, namely to determine if women with cancer not receiving treatment would respond the same as healthy women. Additionally, there is some indication that the effectiveness of soy actually increases over time with continuous use.
What about the type of soy isoflavone? This review actually shows that genestein is more effective than daidzein for alleviating hot flashes.
The key take away is that for women who don't want to use hormone replacement or are ineligible to do so, there is a scientifically proven effective alternative: soy. And while soy may disturb the GI tract in some women, it is actually quite safe, even among women with breast cancer.
So far, so good. The next step is to determine which factors matter most to gain benefit, e.g. dose, formulation, hot flash frequency and how long a woman needs to remain on treatment.