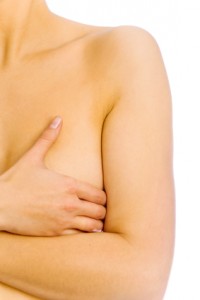 More bad news on the hormone replacement front: if you are taking estrogen (conjugated equine estrogen) with progestin (medoxyprogesterone) for menopausal symptoms and experience breast tenderness, you may want to think twice.
Frankly, this news isn't exactly new. Because back in 2009, UCLA researchers reported similar findings in the Archives of Internal Medicine. These newer data, provided by the same researchers at UCLA's Jonsson Comprehensive Cancer Center and published online in Breast Cancer Research and Treatment only add to the hormone risk fodder.
The researchers say that in their research, they've consistently run across data that suggest that "estrogen plus progestin compared to estrogen alone, have a more marked effect on breast tissue," possibly due to more growth, leading to greater density. According to the lead study author, Dr. Carolyn Crandall "higher breast density (has been shown to be) associated with a higher risk of breast cancer," adding that "in women with extremely dense breasts, the cancer risk can be four to six times higher than for women whose breasts are not dense."
In this update, Dr. Crandall and her colleagues reviewed data from the Women's Health Initiative, specifically focusing on reports of new breast tenderness. At the study's start, almost 12% of women taking estrogen alone or estrogen in combination with progestin reported having breast tenderness. However, by the first year, women in the combination hormone therapy group reporting onset of breast tenderness after starting hormones had a 33% greater risk of developing invasive breast cancer compared with their peers who did not have breast tenderness. And while estrogen alone also increased the risk for developing breast tenderness, the effect was less than that of the combined hormones, especially since it did not lead to an increased breast cancer risk.
So, what to make of these new data? If you are taking HRT and develop breast tenderness, you need to speak to your health practitioner, assess your risks and make a joint decision as to whether or not the benefit of fewer menopausal symptoms is worth the risk of possibly developing an invasive form of breast cancer. And if you are not yet using hormone therapy, you may just want to step back and think twice.
Buyer beware: hormone therapy is a slippery slope with bumps, bruises and perhaps serious disease. Is it worth it? Only you can decide.