Every now and then I like to shake things up in this space, which is why I asked fitness professional writer, speaker and radio host Alexandra Williams (aka @alexandrafunfit on Twitter) to lend me her expertise for a day. What I didn't expect, however, was for her to rock the sexual health world with the revelation that exercise, i.e. how you move, affects how you groove. Frankly, if all it takes is exercise, you will find me adding an extra hour or so a day at the gym!
Show Alexandra some love. She's witty and has been putting the fun back into fitness for for some time now…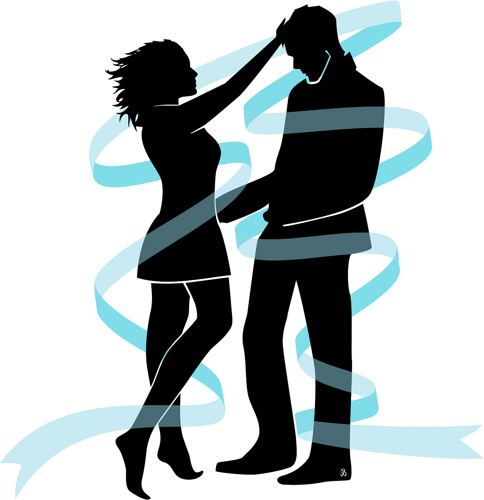 Image: http://vectorportal.com
Sexual health is defined by Mosby's Medical Dictionary. as "a capacity to enjoy and control sexual behavior without fear, shame or guilt." Sexual dysfunction is broadly defined by the Gale Encyclopedia of Medicine as "disorders that interfere with a full sexual response cycle. These disorders make it difficult for a person to enjoy or to have sexual intercourse."
The good news, especially for older adults, is that most sexual dysfunctions can be treated or alleviated through exercise. It has been found to increase sexual drive, functioning, activity and satisfaction, due to the physical endurance, muscle tone and body composition derived from exercise. In addition, exercise activates the sympathetic nervous system, which encourages blood flow to the genital regions. Even low levels of physical activity can elevate mood and help keep sex organs and muscles in better working condition. A 2000 study found that after just 20 minutes of vigorous exercise, women became more sexually responsive, while men had increased testosterone levels after short, intense bouts of exercise.
Frequency, level of desire, and enjoyment are also affected positively for those who engage in regular exercise, at any age. In 2004, a study of college-age students a strong correlation was found between fitness levels, self-perception, body image, social meaning, outward appearance and sexual performance and desire. These findings were replicated in studies of people in their forties and sixties. And of course, sexual activity itself counts as exercise!
One really interesting comparison of exercise and sexual activity, looked at heart rate and blood pressure during treadmill exercise and sexual activity (not simultaneously)! Unsurprisingly, participants spent more time in sexual activity than they did on the treadmill, but here's the intriguing point – the treadmill exercise duration predicted sexual activity duration. For each minute of treadmill time, there was 2.3 minute increase in sexual activity duration!
There are also a number of sexual diseases and dysfunctions that are radically improved through exercise. For example, exercise has a protective effect on Type 2 diabetes, with pelvic floor exercises of specific value. A minimum of approximately 50% of overweight men with Type 2 diabetes have erectile dysfunction, a frustrating condition that is helped enormously by cardiorespiratory fitness.
Urinary incontinence is markedly improved via pelvic floor muscle training, with 100% of women reporting decreased incontinence frequency and duration. And it works for men too – after the strengthening training, incidences of urinary and fecal incontinence decreased, and erectile function increased. Pelvic floor exercises are also an effective modality for primiparous (giving birth only once) women who have vaginal deliveries. Desire and satisfaction go up, and pain goes down for these women.
Breast cancer survivors consistently report an improved quality of life (better physical functioning, reduced fatigue and pain) when they participate in physical activity. In addition, prostate and bladder cancer are positively affected by exercise, including its stress-reducing aspects.
Sexual activity itself has been found to help with cardiovascular disease, with researchers finding that sexual activity corresponds to light to moderate physical exercise and entails no significant risk to the majority of patients with cardiovascular disease (severe angina or chronic heart failure are exceptions).
There's been a lot of research on the relationship between exercise and erectile dysfunction, which affects over 100 million men. The link between cardiovascular disease, metabolic syndrome and erectile dysfunction is strong, and exercise is a mitigating factor on all three. Doctors who prescribe movement to patients with these three issues have reported high success rates. This is good news, especially considering that exercise is a less invasive treatment than medications, surgery or testosterone replacement therapies.
Sexual functioning and health is something everyone should have at any age. Exercise just may be the magic pill!
About the author…
Alexandra Williams, MA, has been in the fitness industry for over 25 years. She is the co-owner of funandfit.org. Together with her twin sister, she writes, teaches and speaks on fitness-related topics, using wit and research! For more, be sure to write to Alexandra and Kymberly at info@funandfit.org.And if you are the sort of person who likes to put a voice to an image, be sure to check Alexandra and Kymberly out on their radio program 'Fun and Fit.'